Efficient Climate Control repairing & installing neighbors' A/C units for over 30 years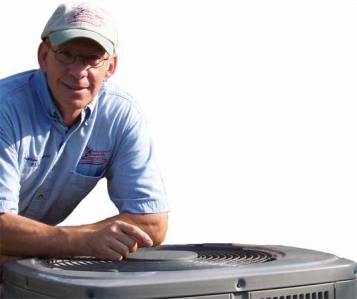 THE WOODLANDS, Texas - Since 1985, Efficient Climate Control (ECC) has been serving residents of The Woodlands for all of their heating and air conditioning needs. From upgrading a system and solving the trickiest of problems to A/C tune ups and air filtration, ECC can do it all, and they have an impeccable satisfaction rating to boot. In fact, the staff and technicians at Efficient Climate Control pride themselves in not only delivering the best possible service pertaining to heating, ventilating, and air conditioning needs, but they treat each of their customers like a neighbor and with the upmost respect. For Efficient Climate Control, the satisfaction, safety and comfort of a client is their most important job, and they have proved that for the past 30 years.

Paul Stamper, the President of Efficient Climate Control, knows all too well the importance of putting his clients first. A name recognizable since the early 1980s, Stamper and his business are synonymous with quality air conditioning and heating services for both residential and commercial customers.

"People use us because we have been around The Woodlands since the early 1980s," said Stamper. "My home and business are located here so we feel our customers are our neighbors. It is not unusual to see customers in the local restaurants and stores."

An American Standard specialized, Customer Care Dealer, ECC provides many services including installation, repairs, maintenance, Indoor Air Quality (IAQ), and more.

"Providing American Standard comfort systems is important but we are also a Customer Care Dealer. Our company goes through additional training and is held to a higher level of customer service. This has given us a referral rating of 100% for years, and we maintain a 99% satisfaction rating. American Standard has been consistently rated the most reliable by consumer magazines. The systems are built here in Texas and their dealers are highly trained. ECC chose American Standard as equipment of choice for these reasons," explained Stamper.

With new technology comes new and improved heating and air conditioning units, and Efficient Climate Control stays up to date with the newest HVAC products, ensuring that their customers have the best system possible. Newer A/C units, such as the American Standard Communicating Systems, include smart technology that gives customers innovative ways to heat and cool their home, while also lowering utility costs. Known as variable speed units, these quiet and efficient products offer comfort with the ability to maintain temperature within one degree in a home, while also providing improved humidity control. Variable speed units adjust throughout the day depending on the capacity needs. So during the hot, summer days, the unit will use more capacity compared to a cooler, fall day with mild temperatures. This, in the long run, saves on utility costs while also being more efficient compared to a single speed unit.

"The variable speed units are the quietest and most efficient units available for a home," said Stamper. "The technology has been used for years and with rising utility cost there is no better time to upgrade than now. These units adjust capacity to the needs of the home. The unit will slow down to 30% capacity if needed on a mild day. The big temperature swings of single speed units is a thing of the past. The technology in these units allows the homeowner to monitor and operate the systems from their smart phones. The American Standard Nexia system also allows a homeowner to use cameras and lock remotely added security. All this technology also allows for faster diagnostics for a service tech if ever needed."

Above all, Efficient Climate Control puts the needs and safety of their customers ahead of everything else. All ECC technicians are factory trained, drug tested, NATE certified and background checked, and have extensive knowledge in HVAC service and repair. It's no wonder why Efficient Climate Control has a perfect referral rating.

"We service all of the villages and know a lot of the design faults in many of the homes," said Stamper. "Our company has stayed up to date with the newest technology, standards, and we constantly train. We use all our training to improve our clients comfort and health."

Efficient Climate Control offers specials and coupons throughout the year, and right now they are offering an Autumn Tune-Up Special to prepare for cooler temperatures during the fall and winter.

Located at 2241 Golden Road in Spring, Texas, Efficient Climate Control serves The Woodlands and surrounding areas including Oak Ridge, Shenandoah, Spring, Tomball, Imperial Oaks and Conroe. For more information about Efficient Climate Control, call 281-367-5267 or visit the website provided below.