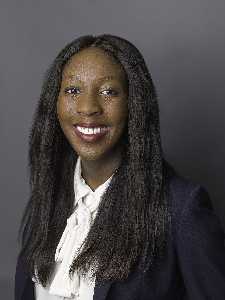 THE WOODLANDS, Texas -- The partners at The Woodlands based law firm, Martin, Earl & Stilwell LLP, are pleased to announce that Chinasa Ogbureke, a newly licensed Texas attorney, has joined the firm's litigation and probate team.
"Our strategy to expand our practice as our client base requires has served us well. Adding Chinasa to the MES team further enhances our ability to help clients within our probate and litigation practice," noted Managing Partner James Stilwell. "With eight attorneys on our team, we offer the perfect fit for clients looking to engage a firm for the specific services that MES offers."
Ms. Ogbureke received her B.S. in International Affairs, from Georgia Institute of Technology and earned her Juris Doctor from the University of Houston Law Center.
A plyometric workouts enthusiast, she also enjoys cardio/resistance training. Short term travels are always in her plans, as well as journeys to visit relatives in New York and Africa.
About Martin, Earl & Stilwell, LLP
Martin, Earl & Stilwell is a Woodlands based law firm with "downtown" experience. The partners bring more than 70 years of combined experience in probate, estate and litigation work and are committed to resolving legal issues in the most expeditious and economical manner. The partners include:
Michael D. Martin, a licensed Texas attorney who is Board Certified in Estate Planning and Probate by the Texas Board of Legal Specialization, and helps clients with a broad range of estate planning work, wills, trusts, business planning and business and real estate transactions. Michael is "AV Rated" placing him in the top 5% of lawyers nationally.
Steven C. Earl, a licensed Texas attorney with a wide diversity of practice. Steven both prepares estate plans for families of all economic levels, and, litigates cases related to estates, trusts and wills. He also handles business formation, contract drafting, business divorces, and, also serious business litigation cases in court and in arbitration, as well as employment issues facing small businesses.
James H. Stilwell is a licensed Texas attorney who handles a wide-range of litigation matters within the practice, including probate, estate and trust litigation, real estate transactions and litigation, and business and employment litigation. James is "AV Rated" placing him in the top 5% of lawyers nationally.
Robin L. Apostolakis is a licensed Texas attorney whose practice focuses in the areas of estate planning, probate, guardianship and business transactions.
The Martin, Earl & Stilwell team does more than draft legal documents. They go out of their way to make clients feel comfortable talking to them about legal issues, with a mission 'to help their clients, family and businesses accomplish their goals confidently, with a solid plan for the future.'
Martin, Earl & Stilwell LLC was named Small Business of the Year, Montgomery College in 2012. The firm is a member of The Woodlands Chamber of Commerce, and all 4 partners have graduated from Leadership Montgomery County.
For more information about Martin, Earl & Stilwell, LLP call 281.419.6200 or visit their web site www.meslawfirm.com.