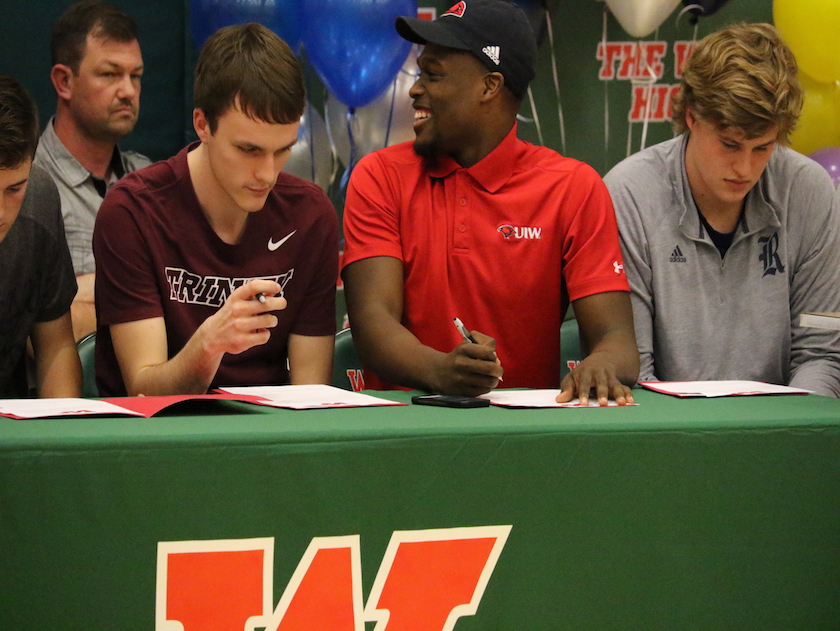 THE WOODLANDS, Texas-Another Signing Day hits the nation as high school students sign their National Letter of Intents to begin their college athletic careers.
The big news from Wednesday came out of Oak Ridge as the top-ranked defensive end in Texas Joseph Ossai announced he is headed to the state capital to suit up for the Texas Longhorns next year. Ossai will join running back Kamari Williams next fall who is also signed to play for the Longhorns. In total 13 War Eagles signed today to add to the 16 who inked their NLI back in November.
The Highlanders held their first Signing Day ceremony of the year which included 47 students. Each student was able to speak on their recruitment process and thank the ones that helped them achieve their goal.
College Park had three signees today with Brad Pease going to the United States Military Academy for Track & Cross Country, Evan Conlon to Lindenwood University for rugby, and Arden Wilson heading to Henderson State in Arkansas.
All February student-athlete signees:
Oak Ridge:
Kylie Cob, Eastfield College Volleyball
Adara Land, Vernon Junior College Volleyball
Tyler Sorrells, Texas Tech Water Polo
Emily Lewis, Grambling State Soccer
Allie Shipp, Texas A&M Corpus Christi Soccer
Maria Veasey, Simpson College Soccer
Mykendrain Ellis, Navarro Junior College Football
Trace Gwaltney, Texas A&T Football
Tanner Lacy, West Texas A&M Football
Jacob Mackey, Colorado Mesa University Football
Joseph Ossai, Texas Football
Kamari Williams, Texas Football
Brennan Young, Houston Baptist Football
College Park:
Brad Pease, United States Military Academy Track & Cross Country
Evan Conlon, Lindenwood University Rugby
Arden Wilson, Henderson State Swimming & Diving
The Woodlands:
Nicholas Masso, Austin College Water Polo
Grace Butero, Duke University Rowing
Jack Barron, Furman University Lacrosse
Quinn Binney, United States Military Academy Lacrosse
Carson Daspit, Jacksonville University Lacrosse
Evan Demerson, Colorado State University-Pueblo
Seth Demerson, Colorado State University-Pueblo
Brendan McCanna, University of Utah Lacrosse
Ramsey McCreary, Notre Dame University Lacrosse
Grant Morris, Rockhurst University Lacrosse
Jackson Shearer, The United States Air Force Academy Lacrosse
Christian Starcke, Lenoir-Rhyne University Lacrosse
Hayley Reardon, University of Oregon Lacrosse
Kenlie Barrett, Sam Houston State University Golf
Halley Buhlig, Colorado State University Swimming
Lucie Nordmann, Stanford University Swimming
Alberto Gomez, Texas A&M Swimming
Gavin Hoffpauir, Texas A&M Cross Country
Matthew Jones, Angelo State University Cross Country
Ethan Mercado, United States Military Academy Cross Country
Jake Lanier, Texas A&M Track
Madison Gammill, Trinity University Track
De'Angelo Alexander, Blinn College Football
Ethan Bonner, Stanford University Football
Kesean Carter, Texas Tech Football
Peyton Fifield, Sam Houston State University Football
Jonathan Hoover, Hardin-Simmons University Football
Steele Petty, Colorado School of Mines Football
Carson Reich, Dartmouth College Football
Jake Syptak, Rice University Football
Romello Willbert, University of Incarnate Word Basketball
Jack Williams, Trinity University Basketball
Cannon Sims, Colorado School of Mines Baseball
Shane Sirdashney, University of Texas - San Antonio Baseball
Ally Haden, University of Oregon Volleyball
A.J. Koele, Mississippi State University Volleyball
Alex Tyler, Henderson State University Volleyball
Sophia Walls, University of Miami Volleyball
Alayis Seneca, McNeese State University Softball
Alyssa Carfagno, New York University Soccer
Caroline Fritsch, McNeese State University Soccer
Aliyah Hale, Northwestern State University Soccer
Caitlyn Hilburn, Concordia University Soccer
Paige Hutton, North State University Soccer
Jasmine Richards, University of Oklahoma Soccer
Grace Stine, Sam Houston State University Soccer