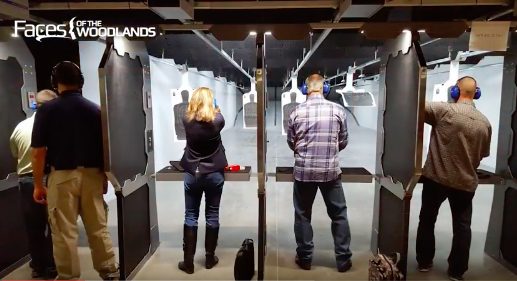 MONTGOMERY COUNTY, Texas -- The National Shooting Sports Foundation (NSSF), the firearms industry trade association, is pleased to announce that it has awarded a Five-Star rating for range excellence to Saddle River Range.

Located in Conroe, Texas, a briskly growing suburb of roughly 82,000 located approximately 40 miles north of Houston, the range operates Monday through Wednesday from 10:00 a.m. to 7:00 p.m., Thursday from 10:00 a.m. to 8:00 p.m., Friday 10:00 a.m. to 9:00 p.m., Saturday from 9:00 a.m. to 8:00 p.m. and Sunday from 10:00 a.m. to 6:00 p.m.

"We were very impressed with Saddle River. It is one of those ranges you walk into and say, 'What's not to like!'" said Zach Snow, NSSF Director, Range Services. "From its comprehensive website and thoroughly knowledgeable staff to its training programs, creative event listings, the supporting retail store, in-house restaurant and, of course, the outstanding ranges themselves, it is clear that this facility has captured the interest of the local populace and gained a reputation as sportsmen's destination for many outside the Conroe area."

Saddle River's firearms range boasts a four-tier membership program, but also offers walk-on range access for as little as $13 for non-members. Shooters can bring their own or rent one of the nearly 100 loaner firearms, including several full-autos, for use on the 24-lane, 100-percent fresh air circulation range. Group and private instruction is available from NRA-certified instructors, and a simulator training room adds variety and entertainment. Saddle River has an active action shooting league, hosts a "Date Night" two-for-one every Friday that even extends the discount to the range's café, features a weekly Shooter's Challenge match and is the frequent choice for corporate gatherings and private parties. The bright, airily designed firearms retail center is a Sig Sauer Elite Dealer, and Saddle River also caters to the areas many archers, with a two-bay, 20-lane bow range and its own dedicated archery pro shop.

Saddle River's owner Thom Bolsch said, "Being a five star range really shows the commitment our staff, customers and leadership all have to making this a great place for the Shooting Sports. Being one of only 25, 5 Star rated ranges in the Country and the only one in the State of Texas, is very gratifying and makes us want to keep our standards high. I really can't thank our Team enough for all they do… From the way we treat our guests to the top notch facility to the safety and knowledge of our range safety officers, this award represents recognition of our hard work."

NSSF's highly respected Star-Rating Range Program works to encourage ranges of all sizes and locations to excel. Applying for rating requires answering a comprehensive questionnaire and business owner self-evaluation of the facilities, staff, community outreach and other criteria. Ranges that appear to meet the criteria for Four- or Five-Star rating receive an on-site evaluation by NSSF staff. NSSF member ranges that meet a Three-Star rating are recognized for being a part of the Star-Rating range family and are provided guidance to improve their facilities and achieve the higher two ratings.

"We just want people to give Saddle River Range a shot, experience the clean, safe and friendly environment and have a good time. If they do that, they will find that we really are a range like no other."

For more information, including instructions on how to apply for NSSF's Star-Rating Range Program, visit www.nssf.org/ranges or contact Zach Snow at zsnow@nssf.org.