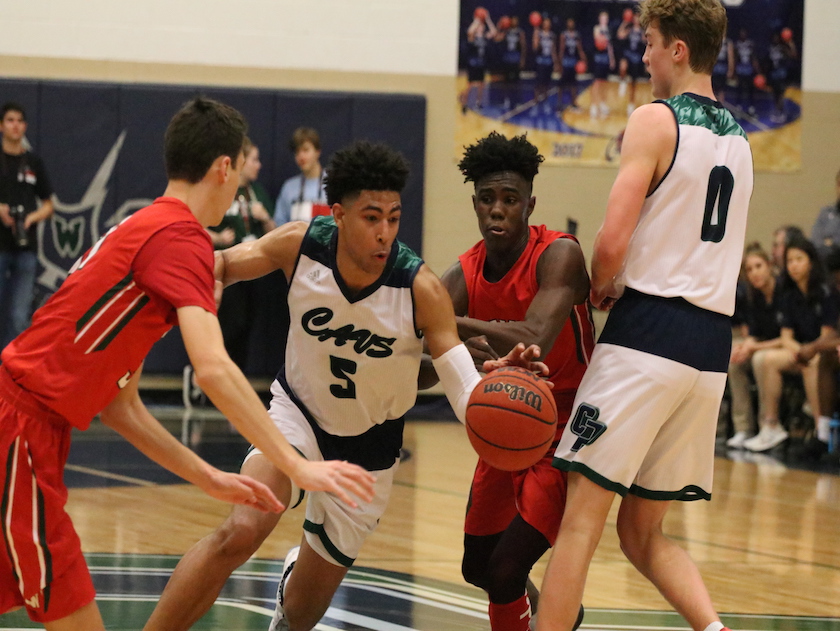 THE WOODLANDS, Texas—Redemption was on the mind for the College Park Cavaliers as they fell to The Woodlands Highlanders two weeks ago. The second meeting went the way of the Cavs, defeating The Woodlands 87-79.
Kansas signee Quentin Grimes was awarded his McDonalds All-American Jersey earlier in the evening leading up to the game. The first athlete in CISD history to achieve that honor. Grimes and the Cavaliers started out slow in the first quarter finding themselves in an early deficit. Another 30-plus game tonight for Grimes to go along with 13 rebounds and 4 assists. Max Bowman continued his excellent post play by grabbing key rebounds early while Trey Grigsby added six points in the first quarter. Deon Blakemore added 21 points while sharpshooter Shannon Scott racked up another 8 points.
Romello Willbert's leadership for the Highlanders was not enough in the end as the Highlanders could not contain the red-hot Cavaliers. Fighting through a knee injury suffered in the third quarter, Willbert could not be stopped, finding the basket in all sorts of ways. Kesean Carter anchored the Highlanders defense while RJ Keene caught fire hitting multiple three pointers late in the game.
As the Cavaliers continue their win streak to five games, the Highlanders undefeated district record and 10 game win streak comes to an end. The Woodlands will host Lufkin on Tuesday Feb 13 for their senior night and the Cavaliers will headed north to Conroe to take on the Tigers. Both teams are currently tied for first place in District 12-6A.