/

/

5 questions with rocker, guitar hero Nils Lofgren: Concert March 28 in The Woodlands
5 questions with rocker, guitar hero Nils Lofgren: Concert March 28 in The Woodlands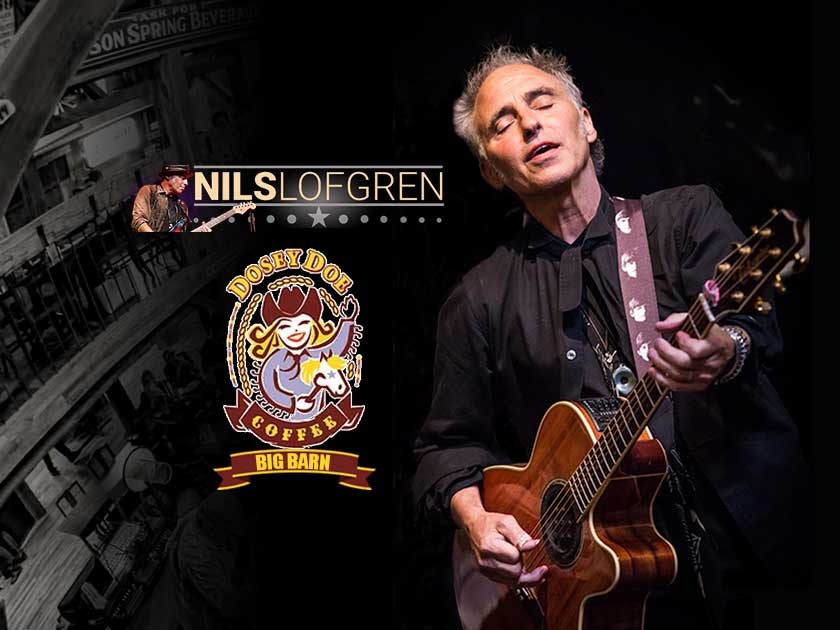 THE WOODLANDS, Texas -- It began on the streets of Chicago with an accordion, and continues today around the world with a guitar.
'I know how valuable it is to leave a show with some musical inspiration.' – Nils Lofgren
Nils Lofgren has had a remarkable career since he hit the road more than 50 years ago when he was just 17. He founded and fronted the band Grin, joined Neil Young's band when he was 18, and eventually went on worldwide tours with Bruce Springsteen's E Street Band -- more than once. As such, he was inducted into the Rock and Roll Hall of Fame in 2014.
Lofgren's musical accolades are numerous, and you can get a taste of it March 28 when he performs at Dosey Doe The Big Barn.
Lofgren is currently working on a new solo album at his home studio in Arizona with his wife Amy.
"I go back and forth between being a duo and a solo act," he said. "I'm hoping next year, with the new album out, I can get a band together to take on the road."
Here's what else Lofgren had to say during a Q/A session with Woodlands Online.
How did you get involved in music?
When I was 5-years-old, it seemed like a lot of the kids I played with on the block in the city played accordion. So I asked my parents to finance accordion lessons. That led to almost 10 years of lessons. After the waltzes and polkas, I moved into classical and jazz.
It was the 60's. I fell in love with the British Invasion -- The Beatles, Rolling Stones, Jimi Hendrix -- and started playing their music on my accordion.
My brother Tommy had picked up guitar as a teenager and started showing me a few chords here and there. I started playing guitar a little bit as a hobby. No one thought in America in the 60's you could do that for a living, but in '68 when I was 17, I hit the road and put my band Grin together. Now I'm working through my 50th year on the road. It's been a long, great run, lot of ups and downs. I'm very blessed to play music, write songs and make a living doing that.
Is singing something that came naturally to you when you began playing instruments?
I started writing at a very young age just for fun. Later I was a roadie for a band called The Renegades. I wrote a song and sent it to them anonymously because I was embarrassed. By the time I started with my band Grin, we had two singers – our drummer Bob Berberich and myself -- so singing was just a natural thing we did as far as writing songs, playing and having a band. After Grin made four albums, they wouldn't give us any more record deals – we made good records but didn't have any big hits – so I got offered to carry on as a solo artist by A&M Records. It was a bit of a fish-out-of-water feeling but I've been doing it ever since.
How did you get on tour with Bruce Springsteen – more than once?
I bought tickets to see Bruce play in the 70's and would follow his career, see him when I could. Thanks to a friendship we maintained through the years, in '84, a month before opening night of the Born in the USA Tour, he needed a guitar player and gave me a call. I still don't know how many people he looked at or played with, but I spent a couple of days jamming with the band in New Jersey and he offered me the job to join the band. It was an amazing gift.
Any words of wisdom to young artists just starting out?
Don't sign a record deal quickly! Take your time. Thanks to technology, you can make music without taking out big bank loans, or bankrupting your parents or yourself. Just be smart about it, and let the love of the music and the journey on your creative path be the primary thing. Don't get hung up on having to sign your life away with a record company immediately. Keep your freedom, especially the freedom of pursuing the music that's coming out of you. If you keep that first, it will lead to good things.
What can we expect to see at your Dosey Doe show in The Woodlands?
I'm going to do about 90 minutes of what I think are my best songs; songs I'm most attached to through some five decades of performing. I usually play quite a bit of acoustic guitar. I'll sit down at the piano for 20-30 minutes, which is an instrument I picked up when I was with Neil Young when I was 18-years-old on the "After the Gold Rush" album. There's even a couple songs I'll play some electric guitar on. I'll try to keep the show colorful, and emotional, and keep it moving. It's just me, my songs and my stories.
Visit the Woodlands Online Facebook page or Twitter to enter a contest for two free tickets to the show. Contest ends Sunday March 25. A winner will be notified Monday March 26.
To purchase tickets to Nils Lofgren's concert, visit www.doseydoetickets.com.