/

/

Top 5 Things to Do this week in The Woodlands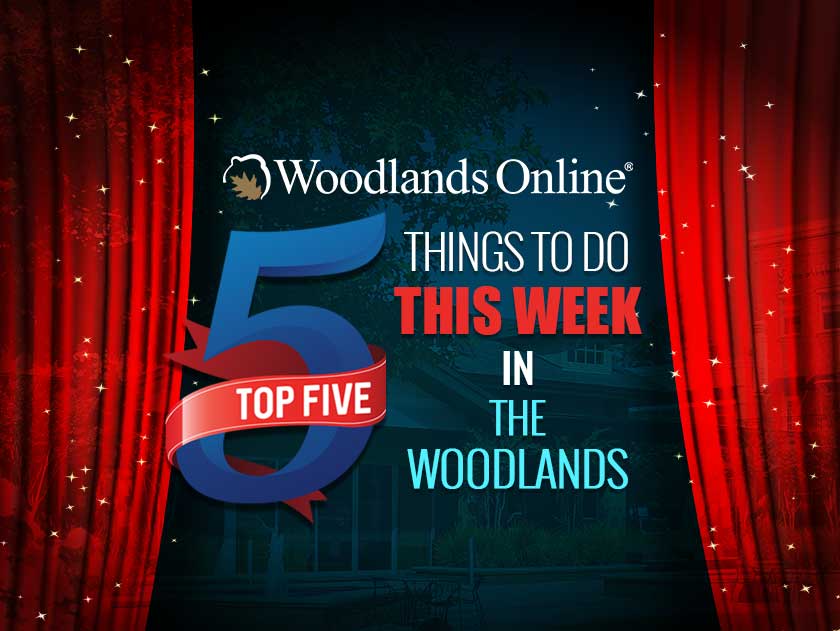 THE WOODLANDS, Texas – It's a busy time of year, what with graduation and Mother's Day upon us. There are so many great things going on around The Woodlands, it's hard to choose the Top 5. With that in mind, please check out our Graduation Guide and Mother's Day Guide for even more fun stuff to do. Meanwhile, here we go for this week…
May is National Bike Month, and The Woodlands has many miles of paths and plenty of parks to explore on two wheels. Become familiar with some trails at 6 p.m. Monday May 7 at Flintridge Trailhead. This is for beginners who want to experience the adventure of dirt trails. The ride will take you through George Mitchell Nature Preserve. Helmets required. For more information, contact acmeadr@comcast.net.
Get salty, but in a good way, at Wine Down Wednesday 6:30 p.m. – 8:30 p.m. May 9 at Salt Remedy, 2330 FM 1488, Suite 200. Dry salt therapy is said to be a natural, drug-free way to help relieve symptoms of respiratory and skin infections, not to mention put you in a better mood and help with better sleep. Girl's Night Out on Wednesday is $25 for wine, appetizers and a 45-minute salt therapy session. Call 936-271-7258 to reserve your spot no later than Tuesday May 8.
Mercedes-Benz of The Woodlands is much more than a luxury car retailer. Join them 6:30 p.m. – 9:30 p.m. Thursday May 10 at 16917 Interstate 45 South for a benefit in honor of YES to Youth – Montgomery County Services. Shelter for Shelter is an event combining community leaders, local business and restaurants to raise funds for YES to Youth. Sponsored by The Richmond Group of RE/MAX The Woodlands & Spring. Visit https://youthmc.ejoinme.org/shelterforshelter2018 for tickets and more information.
How many times has your mom made you cookies? Return the treat by surprising her with a Cake to Remember, 5 p.m. – 7 p.m. Friday May 11 at Over the Top, 453 Sawdust, Suite 102. Each student will decorate a 2-layer, 5-inch cake to take home to mom. Cost is $65 per dad/kid pair. All supplies included. Reserve your spot now by calling 832-458-0995.
Heat up your barbecue game 11 a.m. – 2 p.m. every Saturday in May at Alspaugh's Ace Hardware of The Woodlands, 10720 Kuykendahl. The M-Egg-A event is a BBQ-lover's dream come true with demonstrations on Big Green Eggs, a discount if you want to buy said Egg and a $50 gift card to Trader Joe's, which is literally just across the parking lot.