/

/

Angelman Walk in The Woodlands leads to hope in Houston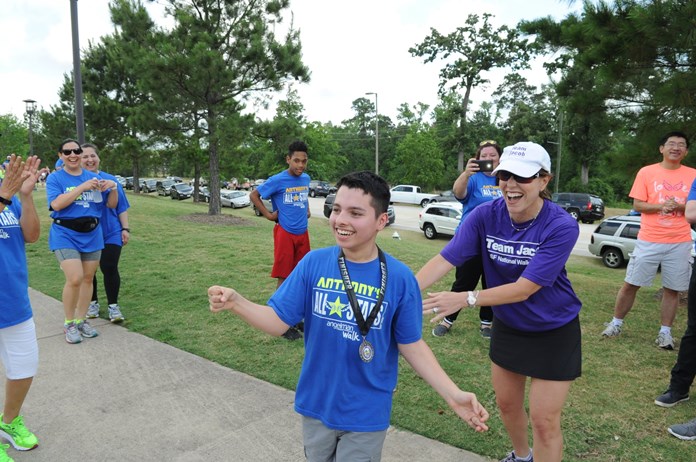 THE WOODLANDS, Texas -- Texas Children's Hospital in Houston will soon be home to a new clinic, thanks in part to 13 years of fundraising at the annual Angelman Syndrome Foundation Walk at Rob Fleming Park in The Woodlands.
"The Angelman Syndrome Foundation has officially announced the opening of an Angelman syndrome multidisciplinary clinic at Texas Children's Hospital," said Debbie Sukin, 2018 Walk Coordinator and a resident of The Woodlands. "This clinic will be the seventh in the nation and joins Vanderbilt, Mayo Clinic, Boston Children's, UNC at Chapel Hill, UC-San Diego, and NYU Langone Health with a designated clinic. These clinics provide a foundation to support future clinical trials by having established sites with Angelman syndrome experts, and patients in place to conduct those trials with key critical biomarkers necessary for the monitoring of their success."
Sukin said her family could not be more excited about the creation and launch of the clinic, with an official ribbon cutting slated for July 9.
Sukin's son Jacob was diagnosed with Angelman syndrome when he was 15-months old, but because the condition is often misdiagnosed as cerebral palsy or autism, it took several months to receive the correct diagnosis. Jacob is now 16-years old.
"We know firsthand the value in bringing geneticists, neurologists, physical medicine specialists, nutritionists, pharmacists and other key disciplines together," Sukin said. "Their focus on Angelman syndrome benefits new children who are diagnosed and provides support to those who have been living with this disorder throughout life."
Symptoms of the rare neuro-genetic disorder include developmental delays, difficulty with walking, balance and speech, and seizures. There is currently no cure and it requires lifelong care.
"While this disorder may not affect all, public support is necessary to advances the cause," Sukin said. "I found in our journey of living life with a rare genetic disorder, it takes passionate parents who serve as their child's voice and advocate, gifted scientists and physicians, and the love and support of the philanthropic community to bring a cure to reality."
The 2018 ASF Walk is at 9 a.m. Sunday May 20 at Rob Fleming Park in Creekside. Registration begins at 8 a.m.