/

/

The Church at Woodforest Receives $65,000 Gift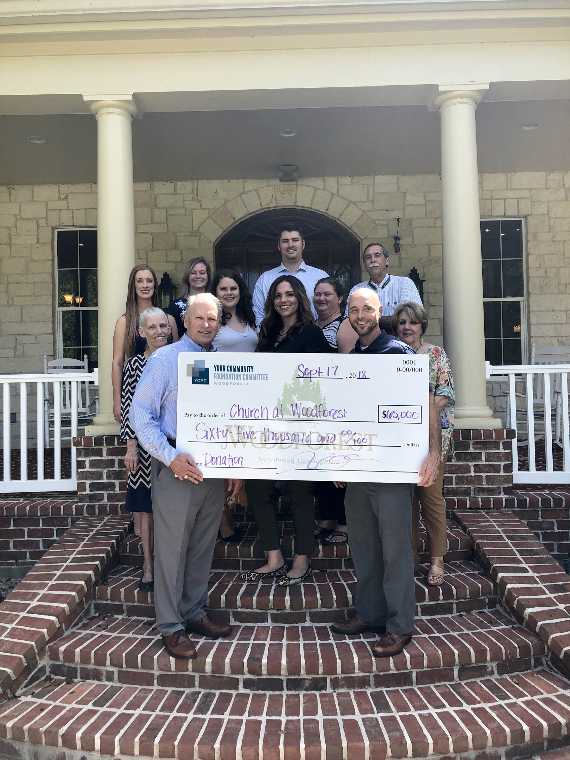 The Church at Woodforest received a big boost in funding recently with a $65,000 gift from the Your Community Foundation Committee (YCFC) at Woodforest.

The grant will be used to for a digital reader board that will scroll information regarding events at the church and in Woodforest. The gift came just days before the church — which began services in the South Montgomery community in early 2016 — broke ground on its first brick-and-mortar facility Sept. 23.

"The Church at Woodforest and this community have enjoyed a very special relationship and partnership from the beginning," said the Rev. Brent Parker, pastor of The Church at Woodforest. "I am both humbled and honored to serve as a pastor here, and beyond grateful to the foundation for making it possible for us to help to celebrate and communicate all of the wonderful events happening in this place."

The 19,000-square-foot facility will house a large multi-use worship center, a gymnasium, classrooms and office space. An athletic field also will be built. Parker estimates the construction to be complete by fall 2019 and said the church would continue holding services at Stewart Elementary in Woodforest until then.

"The purpose of YCFC is to fund projects that deliver a higher level of amenities and resources to Woodforest residents and the surrounding community," said Virgil Yoakum, Vice President and General Manager of Woodforest. "The Church at Woodforest is committed to the same path. It was only natural that we help them on their mission."

Funding of YCFC is through a foundation fee, which is a deed covenant of all Johnson Development communities. Every time a property is sold in Woodforest, a foundation fee that is .5 percent of the sales price of the home, is collected at closing.

"Because this applies to new and resale homes, the reserve, which always stay within the community, can continue in perpetuity, growing as the community grows," Yoakum said.

An appointed group of community members works with the Woodforest Owners Association to award projects for education, technology, community events, the environment, enhancement of infrastructure within Woodforest, and health and wellness, among other interests. The YCFC also supports the Children's Catastrophic Fund, open to Woodforest families who are challenged with the financial stress of caring for a child with a chronic, debilitating illness or birth defect.

More than 7,000 people live in Woodforest, a 3,000-acre master-planned community located approximately seven miles west of Interstate 45 and five miles north of The Woodlands. Homes are priced from the $180,000s to the millions. Learn more at www.woodforesttx.com.