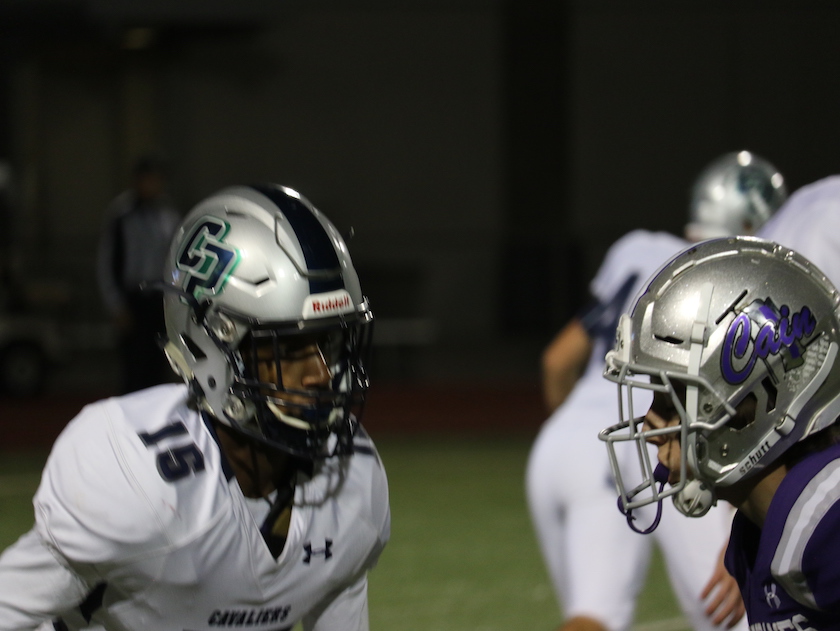 THE WOODLANDS, Texas— The College Park Cavaliers needed a win this week to stay alive in the District 15-6A playoff race. They did just that, getting the 48-23 win over the Klein Cain Hurricanes. The Cavaliers move to 6-3 on the season while the Hurricanes fall to 2-7 in their first full season of varsity football.

After holding the Cavaliers to a punt on the opening drive, the Klein Cain Hurricanes drove down the length of the field, ultimately having to settle for a 35-yard field goal. The Cavaliers defense held the Hurricanes to those three points for the rest of the half behind a stellar performance from sophomore linebacker Dylan Hazan, who totaled four tackles for loss and a sack. The Cavalier offense pulled off an early trick play to extend their lead with a double pass that led to a Tyler Given's touchdown pass to Ethan Dellmore, putting the Cavs up 14-3.

The Hurricanes had the opportunity to find the end zone late in the first half after a blocked punt recovered at the Cavalier 10-yard line—College Park escaped without any points surrendered after a Klein Cain missed field goal attempt. Hunnicutt would score his second 1-yard touchdown run of the half after avoiding a would-be sack and finding Mark Thompson on the goal line. The Cavs last score of the half would be a Hunnicutt pass to D'majai Bailey for a touchdown, extending their lead to 28-3.

College Park quarterback Jake Hunnicutt had one of his best performances of the year, scoring four total touchdowns. Thanks in large part to their dominant offensive line, which includes Tulane commit Jackson Fort and Texas A&M Joshua Bankhead, Hunnicutt now has seven touchdowns on only 40 yards rushing this season.

The second half saw both teams exchange interceptions early. A Jake Hunnicutt's pass picked off by Klein Cain led to a Curt Evangelister pick-six on the ensuing drive. Hunnicutt would toss his second touchdown of the night to Tyler Givens, who took it 90-yards for the score.

The Cavaliers will play Klein next Thursday for the fourth and final playoff spot in District 15-6A.