/

/

Signatures Committee Preparing for Sell-out Event, Drawing Highlight is a Trip to Singapore
Signatures Committee Preparing for Sell-out Event, Drawing Highlight is a Trip to Singapore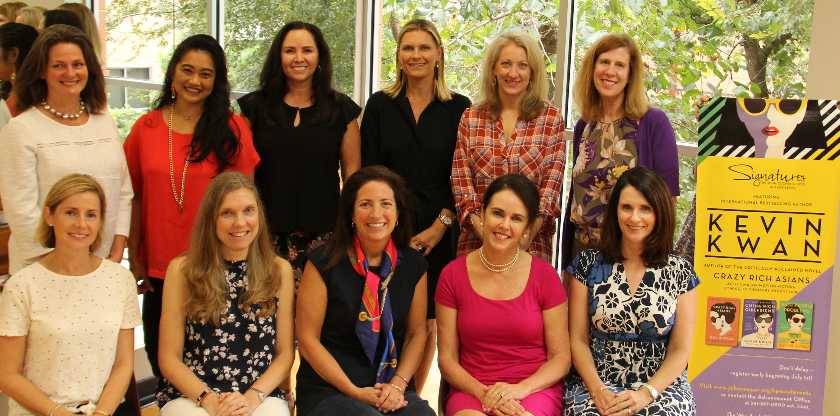 THE WOODLANDS, Texas -- Steering Committee members of the 14th Annual Signatures Author Series have been finalizing the many aspects that go into this much anticipated annual literary event. This year's luncheon will be held on November 30 at The Woodlands Waterway Marriott Hotel, featuring international sensation Kevin Kwan, author of the trilogy that began with Crazy Rich Asians, that was subsequently a box-office record-breaking feature film. Also featured will be 15-20 local authors, book signings and a VIP pre-luncheon event for top level table sponsors.
Montgomery County Memorial Library Named Beneficiary
As is tradition, a portion of the proceeds from each Signatures event will be given to a local literacy organization. The 2018 beneficiary is the Montgomery County Memorial Library System (MCMLS). "We are pleased to support our local library system and have learned that in honor of Kevin Kwan, a portion of this year's donation will be designated for the Asian book section," said 2018 Signatures Co-chair Christie Swanbeck.
Fellow Co-chair Susan DeMarco is very excited about the items featured in this year's drawing. "Our drawing is an opportunity to win some truly fantastic prizes, with the biggest being a trip for two to Indonesia and Singapore where Crazy Rich Asians took place!" she said. "For the first time, drawing tickets can be purchased from our Advancement Office ahead of time, and you do not need to be present to win." Drawing tickets are $25 or 5 for $100 by emailing advancement@johncooper.org or calling 281.367.0900 ext. 2441.
"The lucky winner of the Singapore trip will spend seven nights in Singapore and two in Bintan staying in luxury hotels and a luxury resort plus a two and a half-day guided private tour with Abercrombie & Kent. Airfare is included and Andrew Butler Travel will tailor the trip to the winner's needs.
Drawing items that are closer to home include "A Crazy Rich Night on the Town" to the posh Asian eatery, Kiran's on upper Kirby in Houston with transportation in a Tesla from Tesla Woodlands. And just in time for holiday parties, one lucky winner will win a piece of jewelry from Thomas Markle Jewelers in The Woodlands.
Three drawing items are longstanding Signatures luncheon traditions. Kevin Kwan will sign a beautiful ancient ox cart wheel, as was commonly used for centuries in Asia. Also a tradition, a Book Basket containing signed books from Kevin Kwan and all visiting authors will be included. Another trip is offered, to New York City in the spring of 2019. Exclusive tickets grant you admission to the book bonanza at the Random House Publishers annual Open House.