/

/

Meals on Wheels receives only treats-no tricks at Annual Pumpkin Shoot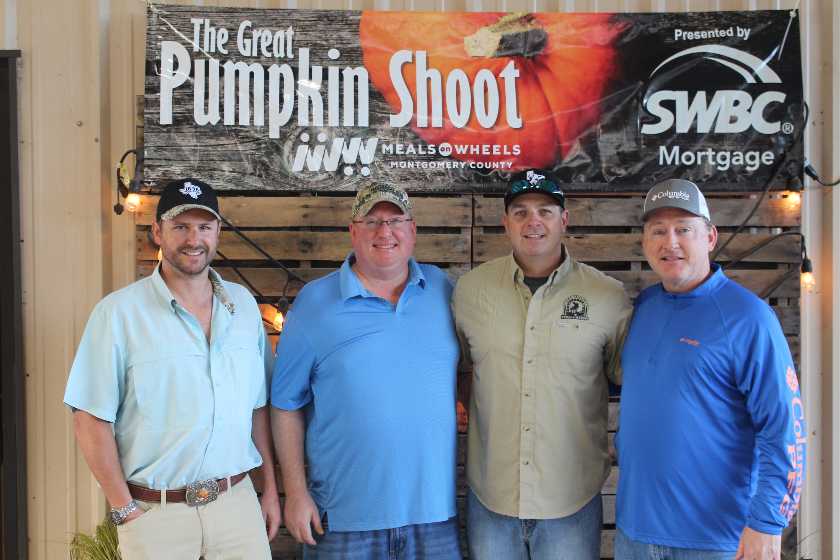 MONTGOMERY COUNTY, Texas -- Meals on Wheels Montgomery County (MOWMC) created a catchy name for their fundraiser in 2016 and it has reaped nothing but treats for local homebound seniors in our community who depend on the fundraiser to supplement their basic needs. October 26 was a blessing indeed with more than $86,000 raised to provide 36 seniors with an entire year's worth of home-delivered meals!

Meals on Wheels Montgomery County started the Great Pumpkin Shoot, Aiming to Feed Seniors 2 years ago at Blackwood Gun Club in Conroe with 16 teams. In its 3rd year the fundraiser doubled the number of participants. Revenue grew 58% from last year.

Connie Parker, Event Manager with Blackwood Gun Club observed, "With 29 women participating in the 3rd annual Great Pumpkin Shoot, Meals on Wheels continues to have more women shooters than any charity or NSCA shoot in the Greater Houston Area."

Since 1973, MOWMC has had a successful track record of delivering meals to local homebound seniors, currently delivering over 130,000 meals annually. Volunteers deliver meals along 75 routes throughout the 1,000 square miles of Montgomery County. As Baby Boomers become seniors, demand continues to increase. Seniors in need of meals are added to the waiting list each week. Additionally MOWMC's curb-to-curb transportation service provides more than 17,000 rides to the disabled and seniors annually. With a mission to foster independence and maintain the dignity of each homebound senior by providing nutritious meals, transportation, and caring connections, MOWMC can always use additional volunteers and donations.

"It's very gratifying to assist seniors and visit with them each week", said Teresa Alexander, MOW volunteer. "They are grateful for conversation and companionship. I really enjoy making them smile with the little extra things like taking their dog to the groomer or delivering dog food on Saturday."

Meals are prepared by a professional chef monitoring calories, fat, vitamins, calcium, sodium, fiber, and protein for 600 homebound meals each week. The first Friday of each month at 8:30am Chef John opens the kitchen to visitors to taste his exquisite offerings.

Meals on Wheels is very grateful to SWBC Mortgage, the presenting sponsor, and all the other community sponsors that contributed to the success of the event: Strike, Woodlands Dermatology Associates, Vitruvian Exploration, Insperity, Planet Lincoln, Entergy, Great American Title, Kevin Baker Real Estate & Homes, Houston Spine & Rehabilitation Centers, Rhame & Gorrell Wealth Management, Green Financial, Buckalew Chevrolet, Milstead Service Center, Stylecraft Builders, First Financial Bank, Benchmark Bank, Quality of Life Chiropractic, Cortez Sitter Allstate, Brightpointe Rivershire, Nettles & Co. Property Tax Advisors, and Pathfinder Home Health.

Planet Lincoln has sponsored the Great Pumpkin Shoot since 2016 as the T- Shirt and Gun Board Sponsor. "Planet Lincoln could not exist without community support," said Alexa Horak. "It makes sense to serve the community with a fun event!"

Winning Teams:

Silver Course

1st: Team of Mark Weisser, Will Simpler, Robert Voss, John T. Dibble

2nd: "Richardson's Dudes": Roger Kolas, Brian Gremminger, Ronnie Johnston & Brian Richardson

3rd: Team of Scott Steinke, David Nettles, Robert Perez and David Nettles Sr.

Woodlands Dermatology Gold Course

1st: "Shawcor Shooters": Jim Kelly, Wes Johnson, Chris Havern, Eric Worley

2nd: "Entergy": Grady Smith, George Russell, Paul Bennett, Kyle Shepherd

3rd: "SWBC Mortgage Shootin' the Breeze": Dave Baker, Brian Parker, Gil Staley, Terry Sellers

Individual Awards:

Silver Course

Top Male: Scott Steinke Top Female: Mary Henrickson

Woodlands Dermatology Gold Course

Top Male: David Baker Top Female: Lynda McBeth

Tracy Hird, Clay Queens team participant, volunteers for MOWMC on behalf of Bentwater Volunteer Families and National Charity League. "It's a beautiful way to do something fun with my friends and raise funds for the organization I love to be a part of".

Other opportunities for volunteers include the newest programs - Breakfast Bags provide food for the most food insecure seniors and AniMeals, pet food delivered to seniors with pets on the 4th Saturday of the month.

More information about Meals on Wheels Montgomery County can be found at www.mowmc.org or on the Facebook page: www.Facebook.com/MealsonWheelsMC. Volunteers are needed to help with upcoming holiday projects, prepare mailings, and assist with program needs. Email Carrie Hyman at carrie@mowmc.org or view our calendar page on our website.