/

/

Lone Star College presented with the 2018 Spirit of Scouting Award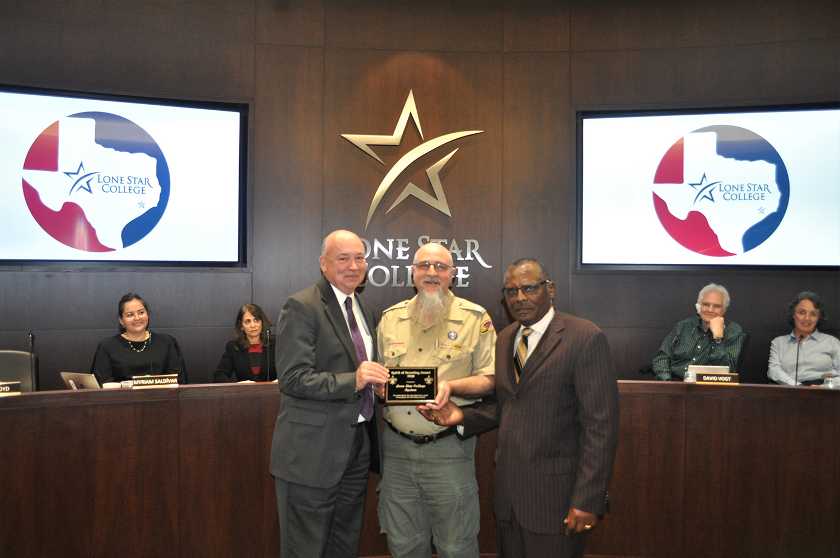 HOUSTON, Texas - The Tall Timbers District, serving the Boy Scouts of America in Conroe ISD, presented Lone Star College with the 2018 Spirit of Scouting Award. The award is given for exceptional and unusual service to young people in hard-to-reach communities over a long period of time.

"I am honored that Lone Star College was recognized for this award," said Stephen C. Head, Ph.D., LSC chancellor. "Part of our culture is to build strong partnerships to promote student and community success."

The award was presented during the citizen participation portion at the February LSC Board of Trustees meeting. Stuart Schroeder, Tall Timbers District vice chairman, noted that Lone Star College has made facilities and equipment available at LSC-Montgomery to the Tall Timbers District and its predecessor George Strake for over 15 years for their annual Merit Badge University.

The Tall Timbers District serves scouting units in Conroe ISD which serves The Woodlands, Oak Ridge and Shenandoah area. The Tall Timbers District is part of the Sam Houston Area Council, Boy Scouts of America.

"I can think of no more important partnership than the one we enjoy with the Tall Timbers District," said Head.