/

/

Decade of Excellence celebration honors ten year Best of The Woodlands winners
Decade of Excellence celebration honors ten year Best of The Woodlands winners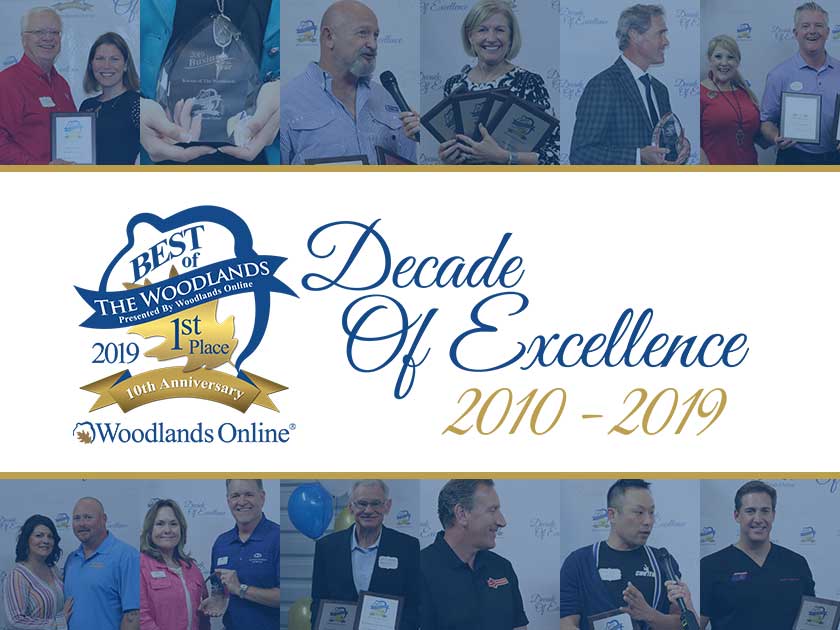 THE WOODLANDS, TX -- Best of The Woodlands ten year winners were honored in a Decade of Excellence celebration last week. Woodlands Online and Amazing Spaces hosted the networking event with more than sixty community-chosen, decade-winning businesses. 2019 marked the tenth year for Best of The Woodlands. The anniversary set the stage for a Decade of Excellence celebration.

The evening of April 30 may have started like any other at Amazing Spaces in Shenandoah. Quickly though, the beautiful facility became the hub of much activity as it filled with people, food, drinks and awards. Best of The Woodlands plaques piled high alongside flowers and sparkling, crystal awards set the tone for honoring the Decade of Excellence winners.

The celebration afforded each of the champions the opportunity to be acknowledged among their peers in the community and benefit from a photo and video highlighting their award. Businesses owners, their family and employees were the stars for the evening and enjoyed the due recognition.

"Decade of Excellence" winners won in the inaugural year and the 10th year of Best of The Woodlands. Bringing together these fantastic businesses that were picked by the community (the very customers that are served by them) and having this group together in one room was phenomenal. A clear picture of what a unique and service-focused community we live in came into view. Each business there not only contributes to the community in terms of driving revenue to the area, but they generously give back to local organizations and participate in outreach programs.

A select group of businesses who won in 2019 celebrated earning their Best of title for 10 years in a row. What a feat this is to accomplish, reflecting the high level of consistent customer service they provide. Commercial enterprises, individuals and groups that participate in Best of The Woodlands appreciate the support shown in their behalf. Their placement among the businesses who earn a Best of title spurs them on to continue their record of satisfaction.

John Van Orden, owner of Mr. Handyman of The Woodlands, sums up what receiving his Decade of Excellence award symbolizes with the word consistency. "We have been delivering a consistent product for over 10 years, and we are going to continue to stay consistent and spread our footprint throughout The Woodlands and surrounding areas," Van Orden said with conviction.

Speaking of the recognition received from holding the Best of The Woodlands title, Dr. Lucian Rivela, owner and surgeon at Rivela Plastic Surgery, said as he held his crystal, 10-year Decade of Excellence award, "It's something recognizable, the community knows it. I have patients that come in as well as colleagues and other professionals that know, and they see that, and they continue to support us as a result of all of our victories." When asked about the driving force behind a decade of wins, Dr. Rivela commented, "I think it's the staff. We have a really well-rounded staff that's compassionate. They care about the patients."

"What an honor to receive this. I think it symbolizes the hard work of all of our team members and the trust of the community in allowing us to work on their vehicles and trust us with their vehicles and with their families. And it's a huge honor for us to say the least," Jeff Toth, owner of Christian Brothers Automotive, said as he and his wife received their Decade of Excellence award. Commenting on the noticeable effect Best of The Woodlands has had on their business, Toth said, "We do have guests that come by and say 'Hey, I recognize that you have been selected as Best of The Woodlands in automotive repair.' And it's made a huge impact on our business."

Building a reliable name in the community resulted in a Decade of Excellence award for the Hal Watson Air Conditioning Co. "We are so happy our customers have appreciated our hard work all these years serving The Woodlands. Hal Watson Air Conditioning Co. has earned a trusted business reputation based on personalized service, the best in reliable equipment, and continued education for our friendly and experienced technicians," said Leah Symens, president of Hal Watson Air Conditioning Co.

A blessing to the community is a fitting description for the Decade of Excellence winners. Woodland's Online was pleased to take an evening to stand up and congratulate these businesses making our community better. Woodlands Online's Benjamin Hobgood presented special awards to many 1st Place decade winners. 'This was a remarkable event in which we were able to honor such distinguished businesses that have made a major impact serving The Woodlands community,' Hobgood said.

Special thanks to those who showered the event with their generous food and drink contributions: Amazing Spaces, Dosey Doe Breakfast and BBQ, Chick-fil-A, Southern Star and Landry's Seafood House. We are very grateful to Amazing Spaces for opening their doors and providing a lovely facility for this unique event.


View the Decade of Excellence Video
View the Decade of Excellence Photo Gallery
View all Decade of Excellence Winners.
Congratulations to all these victors for a Decade of Excellence!