/

/

The ultimate way to wind down on Wednesday evening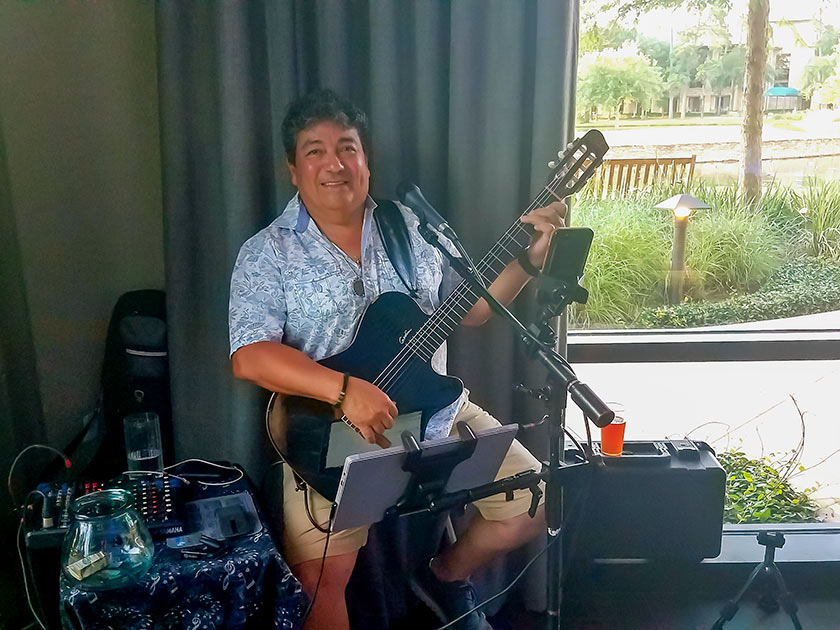 THE WOODLANDS, TX -- Stepping into Robard's Steakhouse on a Wednesday evening, you hear beautiful music floating in from the bar or patio area. Follow the notes to their source, and you are likely to recognize the musician. The Woodlands resident Ramon D. Torres has been sharing his musical talent with the community since 1985.

Robard's Steakhouse is tucked away in the gorgeous setting of The Woodlands Resort. Boasting a golf course, landscaped areas and water features, The Woodlands Resort is a hidden gem of natural beauty in our community. Robard's outdoor dining patio is the perfect spot to relax and enjoy a cocktail or a meal in a stunning location. This steakhouse enhances the dining experience twofold on Wednesday evenings by teaming up with Ramon D. Torres to bring live music to the patio from 5:30-9:30 p.m. The picturesque setting and musical performance create the ultimate way to wind down midweek. Rain or shine, the show will go on. If the weather is particularly hot or rainy, Robard's moves Torres into the chic bar area.

Torres' warm, smiling face makes the audience feel comfortable during his show. With over 300 songs in his repertoire, Torres can please any crowd. Oldies, country, Latin and popular hits are all among the sounds you might hear. Satisfying his listeners and matching the music to the venue are important to Torres, and he is very welcoming of requests.

During one Wednesday evening at Robard's Steakhouse, the audience heard a variety of softly played tunes including "Quando, Quando, Quando," "Budapest," "Brown-Eyed Girl," along with country and Latin hits. Torres' spectacularly-executed version of Bob Marley's "Three Little Birds" added a little reggae flair.

In addition to delighting others with his music, Torres actively works in the Spanish voice-over field. Recording commercials, audio books and character voices by day and showcasing his musical skills at different venues in the evenings are the activities keeping Torres busy right now. Upcoming family changes will bring even more fulfillment to Torres' life. With happiness and pride, Torres awaits the arrival of his first grandchild any day now.

Charitable events often feature live music, and Torres' giving heart compels him to participate in these events. Recently, Torres played at the "Go Red for Women Sweet 15 Celebration" put on by the Montgomery County American Heart Association.

"I can't afford to write a check for every charity I'd like to help," Torres said, "but I'm glad to help them with my time and talents."

Torres feels blessed by his place in the community. Certainly, The Woodlands community is fortunate to have this kind and giving professional amongst us.

A trip to Robard's Steakhouse makes Wednesday evening magnificent. It just might become your new favorite way to enjoy a peaceful evening and the sweet sounds of Ramon D. Torres.