/

/

'Tis the season: Locally-owned Pierce Pools make backyard dreams a reality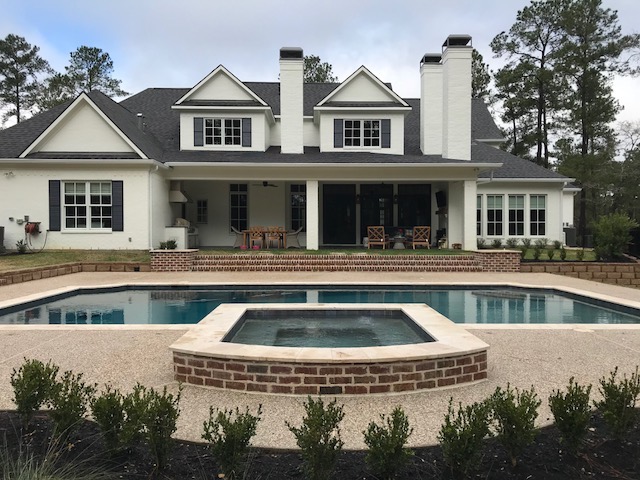 THE WOODLANDS, TX -- Chances are the recent cool fronts have you breaking out your fall sweaters and flocking to the coffee shop for something pumpkin flavored. And while you may be glad to see the scorching summer temperatures break, October through January is actually the best time of year to consider preparing for summer with the addition of a pool. Pierce Pools, serving The Woodlands and surrounding communities since 2010, can make your backyard dreams a reality.

"Typically now through January is the best time of year to put in a pool," Lori Pierce said. "Price hikes often occur in January; you want to get your contract done and started before vendor price hikes. Busy season is March through August, and this can create a little slower of a build. Winter builds ensure your pool is up, running and ready for swim season (and maybe heat it up at Spring Break too!)"

Pierce Pools has roots deep in the community and is family-owned. Chad Pierce started the company after being a custom home builder for 12 years. His wife, Lori, owned a marketing/design firm. The two were looking for a new challenge.

"We decided to join our superpowers and see where it would take us building custom pools – a new adventure for us!" Lori said.

A new adventure, indeed, but the same quality of product they both delivered in their previous work. Pierce Pools is a unique company; they are a "small" big company, meaning they build approximately 50 pools each year but they only have three employees. This keeps their overhead down so the savings can be passed along to their customers. Also, 90% of a customer's interaction will be directly with Chad or Lori during the entire process. Not many companies can proudly tell customers they will get to work with the company's founders from the design state all the way through the build.

"Getting a pool is considered a luxury item, and customers spend their well-earned money with us," Lori said. "I love seeing the smiles on faces at the end and I love making sure that a person's hard-earned money has gone to a well-built, quality pool that will last and bring quality family time together."

The most frequent request Pierce Pools receives is for maintaining energy efficiency and keeping electric and gas bills down. Lori and Chad work with their customers to determine what the best options are for pool sanitation methods and alternatives.

But pools aren't their only specialty. Chad has a passion for taking a backyard and making it an oasis. In addition to gorgeous pools, Pierce Pools also handles outdoor kitchens, decking and patios. And, of course, they have all your pool needs handled too, from new swimming pool color lighting to installing a salt water system, and everything in between.

Ready to bring your backyard dreams to life? Lori suggests talking with neighbors and friends to get referrals.

"Get 3-4 bids from recommended contractors, and bring ideas to your initial meeting – you can use Pinterest or Houzz – but try not to get overwhelmed with too many options and be practical with what you can afford," Lori said. "You can also start the financing process at the same time as your design process."

Chad and Lori are as passionate about their community as they are their business. Chad grew up in Oak Ridge and now the pair have kids who attend Magnolia schools.

"We love our community and surrounding areas," Lori said. "Communities are a critical part of every business' success and we also love to be a part of the community success by sponsoring and volunteering in and around our schools and organizations."

At Pierce Pools, you'll get an unmatched commitment to service and quality. Chad and Lori bring years of experience and excellence in business to their company. For more information about Pierce Pools, visit PiercePoolsCo.com.