/

/

Montgomery County Sheriff's Office Seeking Identity of Robbery Suspect in The Woodlands Area
Montgomery County Sheriff's Office Seeking Identity of Robbery Suspect in The Woodlands Area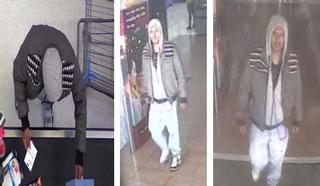 THE WOODLANDS, TX -- On November 17, 2019, deputies with the Montgomery County Sheriff's Office were dispatched to the Timbermill Apartments located at 1481 Sawdust Road in Spring, Texas in reference to a robbery. When deputies arrived, they learned a juvenile victim was assaulted and had his wallet taken by three black males. The victim's credit card was used the next day at a Walmart in the Houston area. Video camera footage was available from the Walmart which shows the below pictured male allegedly making purchases with the victim's credit card.

If you have any information regarding this suspect, please contact the Montgomery County
Sheriff's Office at 936-760-5800 or Multi-County Crime Stoppers at and reference Case#
19A370065.