/

/

Number of Home Fires on the Rise in the First Month of the New Decade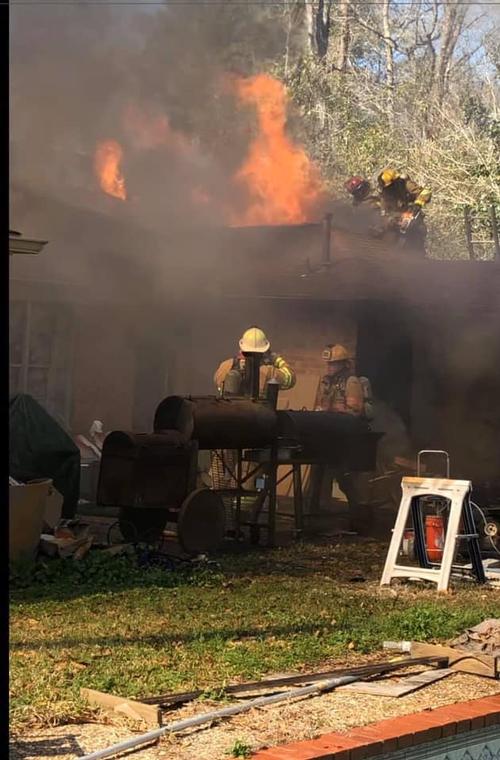 MONTGOMERY COUNTY, TX -- Firefighters and Fire Investigators have been busy this week responding to numerous residential fires across Montgomery County. Just this morning, Magnolia Firefighters responded to a mobile home fire on Goodson Loop that was initially reported to have been started by a space heater. While there were no injuries due to this morning's fire, others have not been so lucky. East Montgomery County Firefighters responded to a residential fire Thursday afternoon where a resident was initially reported to be trapped. The victim, an elderly male, was transported by MCHD EMS after being treated for smoke inhalation. The fire was reported to have originated from a heat lamp on the home's porch.
Firefighters stay busy in the middle of the peak season for home fires.
Across the nation, the number of home fires start to rise each year during the holidays with more fires occurring in December, January, and February than any other time of the year. This year has been no exception, as County Firefighters have responded to over 40 reported structure fires already this month. While many of the fires around the holidays are associated with cooking, the number of heating related fires tend to increase as cooler temps linger through January and February. In addition to cooking and heating related fires, 9 recent fires have been determined to be intentionally set and MCFMO Investigators have been busy as well with a number of arrests and ongoing criminal investigations. These arson fires appear to be unrelated and scattered across the area.
On January 18th , 2020, MCFMO Fire Investigators arrested 33 year old Jalina Lee Gordon charging hercwith 1st Degree Felony Arson for allegedly setting fire to a home occupied by a female family member and three small children. The home was set on fire by pouring gasoline on an exterior wall and igniting it. Fortunately the children and their grandmother were able to escape unharmed.
On that same night, MCFMO Investigators responded to an arson fire started inside a building on Superior Road in the Magnolia area. Investigators identified three juvenile suspects, linking them to the fire and charges are pending in that case as well. Two other individuals have been arrested this month for Arson and Insurance Fraud after they allegedly set fire to their vehicles in order to collect insurance money.
Prevention and Preparation is the key to keeping your family safe.
One of the busiest Fire Departments this month has been the East Montgomery County Fire Department and Fire Chief Howard Rinewalt noted that one of his department's concerns continues to be the lack of working smoke alarms in many of these fires.
Chief Rinewalt reported that East Montgomery County Firefighters have installed a number of free smoke alarms recently, and he encourages residents to seek assistance from their local fire station if they do not have working smoke alarms. Operation "Get Alarmed Montgomery County" is a county-wide fire safety initiative between all County Fire Departments and both the City of Conroe and County Fire Marshals, offering free smoke alarms funded by donations from the community. Under the program, homeowners that need assistance can contact their local fire station and schedule a home visit. Firefighters will come to their home and install new long life smoke alarms in every bedroom, sleeping area, and adjoining hallway at no cost.
Under State Law, landlords are required to install smoke alarms in all rental homes, and then the tenants are responsible for testing them and replacing batteries as needed. If you rent your home, mobile home, RV or apartment and don't have smoke alarms, notify your landlord in writing and request they be installed within 7 days as required by the Texas Property Code.
Heating fires often occur at the worst possible time, breaking out in the middle of the night while our families are asleep. The number one safety recommendation is to first and foremost have working smoke detectors throughout the home, especially in all sleeping areas. Having a working smoke alarm dramatically increases your chances of surviving a fire.
According to the NFPA (National Fire Protection Association), heating equipment is a leading cause of home fire deaths. Half of home heating fires are reported during the months of December, January, and February. With proper precautions, many of these fires can be prevented. The Montgomery County Fire Marshal offers the following tips for staying safe while keeping warm this winter.
• Keep anything that can burn at least three feet away from heating equipment, such as the furnace, fireplace, wood stove, or portable space heater.
• Have a three-foot "kid-free zone" around open fires and space heaters.
• Never use your oven to heat your home.
• Have a qualified professional install stationary space heating equipment, water heaters, or central heating equipment according to the local codes and manufacturer's instructions.
• Have a qualified professional clean and inspect heating equipment and chimneys every year.
• Remember to turn off portable heaters when leaving the room or going to bed.
• Always use the right kind of fuel, specified by the manufacturer, for fuel burning space heaters.
• Make sure the fireplace has a sturdy screen to stop sparks from flying into the room. Ashes should be cool before putting them in a metal container. Keep the container a safe distance away from your home.
• Test smoke alarms at least once a month.
Portable Space Heaters – "Give your Space Heater Space"
Although portable space heaters are involved in only about 1/3 of heating fires, they are the most deadly type of home heating fires, responsible for approximately 3/4 of fatal home heating fires. Many of these deaths occur when space heaters are left on while residents are asleep, or they are left too close to something that can catch fire, such as bedding or upholstered furniture.