Woodforest National Bank Celebrates 40th Anniversary with Development in Downtown Conroe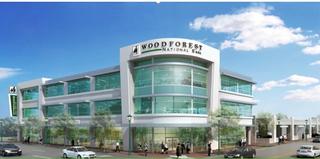 THE WOODLANDS, TX -- Woodforest National Bank® ("Woodforest") is pleased to announce its plan to develop a new mixed-use business center in historic downtown Conroe, Texas. The site is currently home to a Woodforest branch located at 400 West Davis, in Conroe. The current building, constructed in 1962, is one of Woodforest's most tenured branches which opened in 1996. Construction will begin in the fourth quarter of 2020 and is scheduled to open in the first quarter of 2022.

Jay Dreibelbis, Woodforest Bank's President and CEO, commented, "As we continue to celebrate Woodforest's 40th year in banking, it gives me great pride to unveil a brand-new building for our Conroe Downtown branch, one of our first locations in Montgomery County. This location symbolizes our hope for the future while we continue to honor our past and our roots in the Conroe community."

Woodforest will anchor the first floor of the new building, occupying 3,800 square feet for its branch, full-service ATM and drive-thru facility.

In addition to the branch space, the building will be a marquis tenant location with 9,000 square feet being dedicated to retail space and 20,000 square feet being used for Class A office space.

For your convenience during construction, these nearby locations are available to meet your banking needs: Conroe 105, located at 3101 West Davis, Loop 336, located at 1111 N West, Conroe Walmart®, located at 1407 North Loop 336 West and Tu Banco Fruitlandia located at 525 South Frazier. In addition, Woodforest will have a new drive-thru ATM located at 733 West Davis in the Conroe Center parking lot.