/

/

Award-Winning Author Jesmyn Ward's Moving Speech as Keynote Speaker at the 16th Annual John Cooper School Signatures Author Series
Award-Winning Author Jesmyn Ward's Moving Speech as Keynote Speaker at the 16th Annual John Cooper School Signatures Author Series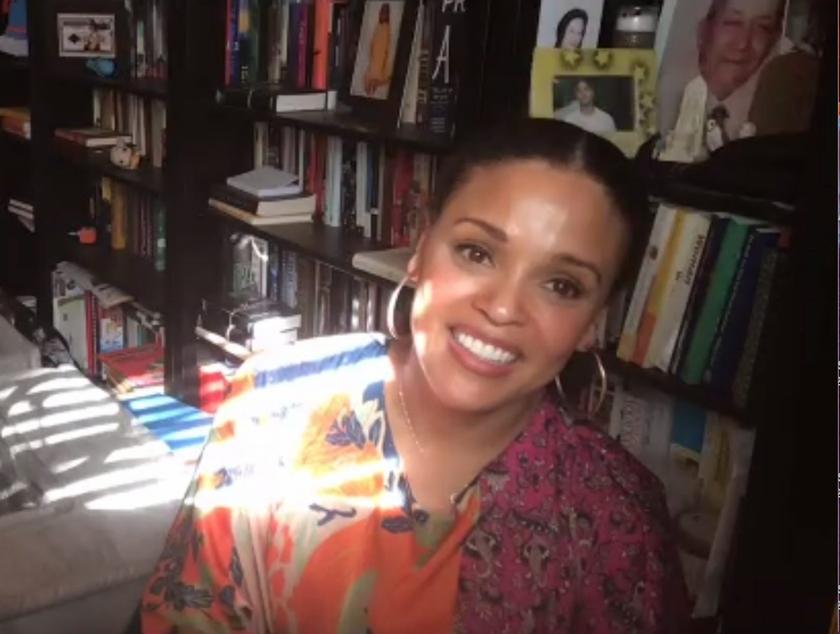 THE WOODLANDS, TX -- The 16th Annual John Cooper School Signatures Author Series went virtual this year, yet its insights and intimate atmosphere did not diminish. Keynote speaker, American novelist Jesmyn Ward, spoke to the audience from her home library, the place where she sits to write each day. Ward is a two-time National Book Award–winning author as well as a professor of creative writing at Tulane University. Her books include: Sing, Unburied, Sing, Navigate Your Stars, The Fire This Time, Men We Reaped, Salvage the Bones, and Where the Line Bleeds.

The 2020 Signatures Author Series allotted the audience a special peak into Ward's breathtaking work; her upbringing and community that inspired her, as well as a true sense of why stories matter.

The following are excerpts from Ward describing her writing journey:


"I grew up hearing stories. This was what my family did when we gathered at my grandmother's house or my great grandparent's house. These were hot, humid, Southern Mississippi days when the sky hung glow with heavy dub grade clouds. Or these were cool autumn days when the air smelled of burning oak leaves and pine needles. Where these were days where we gathered to celebrate the Fourth of July where we eat sack after sack of hot balls, crawfish, and the old folks talks, and the young folks listen. On days like this, I heard stories.
…
That feeling of dread that I felt, as I listened to their stories would become so familiar to me that when I got older and began writing about race and history in America, I would end up, I would come up with my own name for it - blood dread; That feeling of remembering oppression, remembering brutality, as it passed from generation to generation, along with my family's stories.
…
This is the world I was trying to escape. When I fell in love with reading about girls, stubborn, smart, underdog girls who fought against worlds that constantly devalued them in their place in it. These were girls who ultimately triumph.
…
There were so many books about little girls who were finding their ways, in worlds bent on confounding them, on keeping them voiceless, worlds that demanded that they be seen, not heard. But even in my books, the world seemed uneven for people like me. When I was seven, I read the missional scene in Little House on the Prairie, and dimly understood that the blackface that Paw painted on himself was aping a black person, that he was aping my father, my uncles, me. And in all my time combing my way through my elementary school library reading book after book in search of girls, I only found one story told from a black girl's point of view, Cassie, in Roll of Thunder, Hear My Cry.
…
I wondered why I couldn't find myself a modern young black girl in any of the books that I read. I wondered why my teachers never taught us about Martin Luther King, or Benjamin Banneker, or Frederick Douglass, or Harriet Tubman in elementary school. In middle school, I learned next to nothing about the civil rights movement of the 50s 60s and 70s. Even though white supremacists murdered four little black girls in the state next door during that movement, I never learned about the Birmingham before.
…
My grandmother told me, they think we are less than human. That was the unspoken phrase in my father's story. They think we are worth less. That was the silent affirmation in my mother's tale. They think we are less always less. This is what my own experience, my own reading, confirmed for me. This is what my classmates and my schoolmates awful racism taught me. This is what I internalized, this voice that says, you are worth less. This was the voice I struggled to shrug off everyday as a child, as an adolescent, and now sometimes as an adult. This is what a culture that devalued black life for 400 odd years tells black people today in 2020, about the value of black life.
…
It took time to understand that for me, telling my story and the stories of those around me, other poor black Southern people, was a way to assert our humanity to speak is to assert that I exist and that my life has worth.
…
It wasn't until I sat down to write my college entrance essays that I wrote something about my family and my community, which again, is mostly black, mostly poor and working class, but also drug ridden, and rural. When I wrote my long personal statement, it felt important, because for the first time, I was writing about myself, and those closest to me, I was making a statement that insisted on visibility. We are here, I said, and this is what life is like for us. And then, this is who I am. And then, finally, hear me. For the first time I wasn't using literature to escape my life. I was using literature to explore it. It was an important epiphany for me, I could write something that readers find compelling, and engaging, and it could be about me and my experience and the experiences of those in my community. I could speak and people would listen.
…
Often, journalists who interview me ask me about hope, about redemption. They say that the ending of Sing, Unburied, Sing is tentatively hopeful, and they ask me if I meant to make it so. And each time someone asks me this, my answers the same - yes, emphatically, yes. If my work was devoid of hope, if it existed only to catalogue the awful truth of black lives in the south in America, I think it would be horror."
Ward then moved into the question and answer portion of the event. The following are a few of the questions, followed by her responses:
What would you like the students of The John Cooper School, many of whom cannot relate to your characters, to know about their fellow Americans living in the places that you've described in your books?
Ward replied that she hopes those students will still find something in the characters lives and in their stories that resonates with them. In Salvage the Bones, she writes about a poor black girl who finds out that she's pregnant at 15 years old. Ward said she thinks that perhaps students will identify with the character's sense of bewilderment and that she doesn't exactly know how the world works, and is trying to figure that out.
"How she often feels powerless, you know, and like, she's been robbed of agency. I think that that's a very common thing that young people feel," Ward said. "That they are powerless … My hope is that she becomes real … and so when they read about her, they feel as she feels, you know, they feel that same sense of helplessness, they feel her anger, they feel sometimes her despair, they feel her sense of joy … to realize that the people that I write about are more like them than they are not like them. In the end, they're just people, they're just kids who are trying to do the best that they can with what they have to work with."
Do you plot your books? Or write as it comes to you?
Ward replied that with her first novel she tried to write an outline, a plot, but once she got maybe three chapters in to the rough draft she turned the outline away.
"I discovered that the ideas that I had about who the characters were, and what they were capable of, and how they would act and react in different situations, that I didn't have a clear understanding of who they were, when I began writing the book, and that the characters had really begun to take on a life of their own … their personalities begin to emerge, and they begin to change and grow … I found them wanting to do things and say things that surprised me. And so my understanding of who they were began to grow, and my understanding of the world that they inhabited, that also began to grow, and the outline was not relevant anymore. So I do not, I don't write from outlines."
Do you write every day?
"Yes, I try. I treat writing as just a part of my schedule. I treat writing like I treat brushing my teeth … writing is something that I do even when I don't
feel like it, because that is the way that books are written, or at least the way that my books are written. I mean, if I waited, you know, to be just inspired like get struck by a bolt of creative lightning, I would never finish anything … for me, it's really about sitting down five days a week for at least two hours a day and making it happen."
Do you want to tell us a little bit about what you are working on?
Ward said that she is currently working on a book about an enslaved woman in the year 1835. "She is originally enslaved in South Carolina on a rice plantation and the person who has enslaved her, sells her, and so she travels south, she walks," Ward said. The character then travels south to New Orleans, where she is sold to an enslaver who runs a sugarcane plantation.
For further details on Jesmyn Ward's career and novels, visit her website at www.jesmynwardauthor.com/index.html

Throughout the years, the John Cooper School Signature Author Series has raised over $57,000 for different beneficiaries that they pick to support each year. This year, they chose Children's Books on Wheels, a local nonprofit mobile literacy organization that promotes literacy by providing books to children and their families. This wonderful organization started in Tamina and now also serves Montgomery County, Magnolia, Willis and pockets of The Woodlands.
Visit their website for more information.