/

/

Local Woodland's Artist Revamps Sculpture at Fielding's Local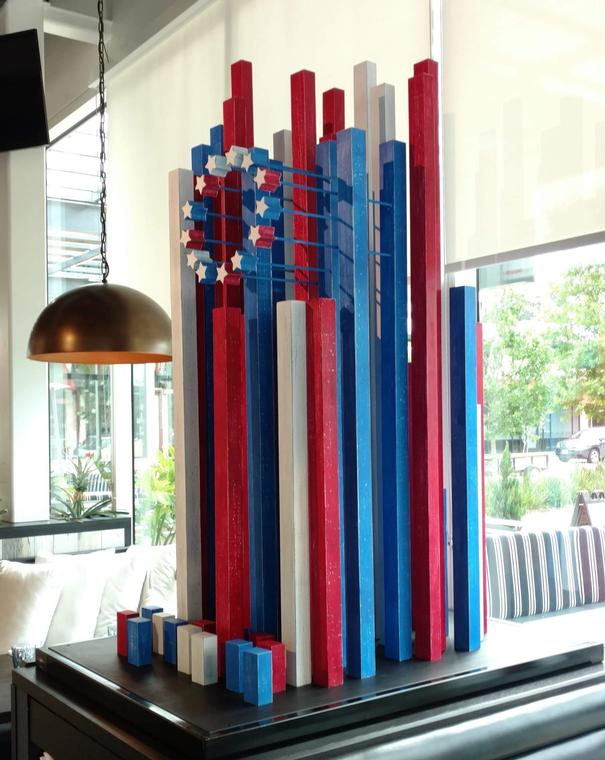 THE WOODLANDS, TX - Fielding's Local not only celebrates local Houston food, but local Houston artists as well. This weekend they welcome "The American Soul" back to their space. Created by Matt Roszyk, this large wooden American flag sculpture is a testament to American ingenuity. This stunning piece was originally a pure wooden sculpture that Fielding's Local was lighting from above. They had found that it wasn't doing the artwork justice. Matt has now reworked the piece to be lighted from the bottom. Using metal working, electrical wiring, and more woodworking, "The American Soul" now shines bright for everyone in the restaurant to see. This is a great example of Matt's ingenuity and artistic genius. Fielding's Local is happy to have the upgraded art back and they know their guests will enjoy it for years to come.

Matt's relationship with woodworking started at the age of 4 when he would follow his father to the woodworking shop and begin to construct his own smaller replicas of whatever his father was working on at the time. As a teenager he developed more technical skills in general carpentry, electrical, and plumbing. Matt moved to Houston Texas in 2001 and met Peter Lampros who owned a custom picture framing shop. The friendship grew strong very quickly and so did Matt's interest in art. At first the creation of something that was non-functional was not easy for him to grasp, but the more he was surrounded by art, and more importantly other people who appreciated the art, he saw the very valid and crucial role art plays in society. Today his focus is mostly functional art, usually in the form of furniture, but the pendulum does swing into the realm of non-functioning sculptures more frequently than it ever has.

Learn more about Matt and his artwork by visiting his website: matt.roszyk.com/. Reserve a table at Fielding's Local by calling 281-351-2225 or visiting www.fieldingslocal.com.