/

/

Lone Star Flight Museum Set to Open the Exhibit, Never Forget: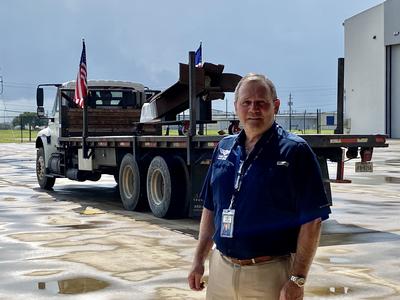 HOUSTON, TX -- The Lone Star Flight Museum today announced the opening of Never Forget: Commemorating the 20th Anniversary of 9/11. The exhibit remembers and honors the 2,977 people killed in the terrorist attacks that occurred on September 11, 2001, including the first responders and courageous men and women that risked and sacrificed their own lives to save others. The names of each of these individuals will cover the gallery walls. In addition, an 11-foot section of a World Trade Center I-Beam will be on display. The exhibit opens on Wednesday, September 1 and runs through Sunday, January 3, 2022.
Commemorating the 20th Anniversary of 9/11
This original LSFM exhibit is presented by The Gary Sinise Foundation and supported by Morgan Stanley, Silver Eagle Distributors Houston, and the City of Bellaire.
The 11-foot section of the World Trade Center I-beam is on loan from the City of Bellaire. The beam was donated by the Rubenstein Family Foundation to the City of Bellaire to enable its leaders to share this piece of American history with the community. The following companies graciously donated their services to this project. Steel for the I-Beam cradle and logistics were provided by Metaltech Service Center, Sling Shot Delivery Service and Stars and Stripes Transport transported the beam from Bellaire, and Premium Fabrication produced the cradle that will house the WTC I-Beam within the museum gallery.
The walls of the gallery space are covered with the names of all the 9/11 victims and their location at the time of the attack. A guest book will also be on display to allow visitors to leave their name, a sentiment or reflection about what happened on September 11, 2001. Upon closing of the exhibit, the guest book will be donated to the National 9/11 Memorial & Museum in New York City.
Museum President and CEO Lt. Gen. (ret.) Doug Owens reflected on the planning it took to make this exhibit possible. "We are proud that our commitment to honor and remember the 20th anniversary of 9/11 with this exhibit has been a community effort. The Gary Sinise Foundation led the way to ensure this exhibit became a reality along with Morgan Stanley and Silver Eagle Distributors Houston. And we are honored to display the I-Beam on behalf of the City of Bellaire and thank each of the companies that were part of creating an extraordinary display for the beam. We are extremely grateful for the overwhelming support." He added, "Our hope is this exhibit continues the dialog about what happened on 9/11, how we came together as a nation and most importantly, never forget the innocent people, first responders and real-life heroes that lost their lives that day."
"The Gary Sinise Foundation is honored to present this essential exhibit on the 20th anniversary of 9/11," said Ricardo Chavira, the foundation's Associate Vice President of Marketing and Communications. "9/11 occupies pivotal ground at the Gary Sinise Foundation. While watching the terrorist attacks unfold on television from his home in Los Angeles, Gary Sinise resolved to utilize his good fortune, network, and celebrity to support our nation's military men and women and our community first responders. The attacks that September day became a pivotal step in his journey from self to service, and this exhibit is another essential reminder of how important our defenders are to the safety and security of our nation."
As part of the exhibit, the museum will also offer public programs that include age-appropriate activities that highlight first responders, our military and more. The museum will host live, virtual tours of the National 9/11 Museum & Memorial in NYC and an inspiring talk by a Houstonian and 9/11 survivor. On Saturday, Sept. 11 and Sunday, Sept. 12, all first responders and their families will get free admission to the museum, up to 4 guests per family.
The Never Forget exhibit will be FREE for school groups and home school groups/families that book a field trip with the museum. They will also be given access to grade appropriate, pre and post visit classroom activities and curriculum for teachers to share with their students. Curriculum covers grades Pre-K-12.
Never Forget: Commemorating the 20th Anniversary of 9/11 is included with a general admission ticket and free to museum members. For more information about this exhibit and the Lone Star Flight Museum visit online or on the museum's Facebook or Instagram pages.
About the Gary Sinise Foundation
The Gary Sinise Foundation was established under the philanthropic direction of award-winning actor and humanitarian Gary Sinise, who has been an advocate of our nation's defenders for forty years. The Foundation's mission is to serve our nation by honoring our defenders, veterans, first responders, their families, and those in need. Its programs—designed to entertain, educate, inspire, strengthen, and build communities—serve America's heroes and their loved ones 365 days a year. Learn more: www.garysinisefoundation.org
About the Lone Star Flight Museum
The Lone Star Flight Museum (LSFM) is a 501c3 aviation museum and STEM learning center with a mission to celebrate flight and achievements in Texas aviation as well as educate and engage our youth through science, technology, engineering and math. In addition to the Texas Aviation Hall of Fame, the 130,000 square foot museum is home to a flying collection of rare and historic commercial, general aviation and military aircraft. Guests can experience the wonder of flight in a warbird ride and get hands-on in the high-tech Aviation Learning Center and Flight Academy. Multiple public and STEM-focused education programs create an unforgettable museum experience for visitors of all ages. Located at Ellington Airport, just 20 minutes from downtown Houston, LSFM is open Tuesday-Sunday 9 a.m.-5 p.m. and Sundays Noon – 5 p.m. Tickets start at $10 with senior and military discounts. Memberships are also available.