/

/

Choose Thrilling Adventures on A&K's New Ultimate Iceland & Greenland Cruise
Choose Thrilling Adventures on A&K's New Ultimate Iceland & Greenland Cruise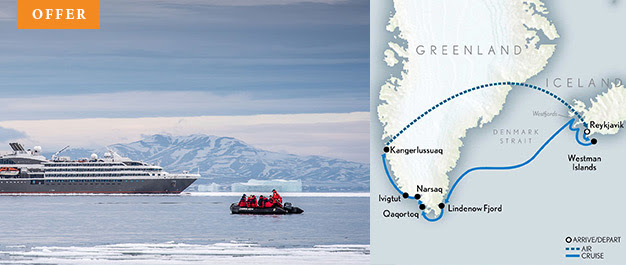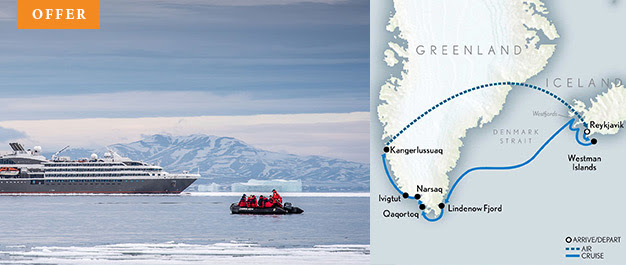 Grab
Active adventures are the star of our new 2020 Ultimate Iceland & Greenland Cruise, combining the best of these spectacular Arctic islands with exciting, all-inclusive outdoor pursuits. Choose from a range of intensities designed for everyone — from families and teens to experts — or skip on the extreme adventure, opting instead for fascinating excursions focused on culture, landscapes and history.

No matter what you choose, enjoy travelling alongside A&K's award-winning Expedition Team and acclaimed climber Alex Pancoe, who recently conquered the tallest peak on every continent and joins as our official Explorer in Residence.

Experience the adventure in style on incredible 'Le Boreal,' exclusively chartered to feature all-balcony accommodations and an intimate capacity limited to just 199 guests. And relish every luxuriously all-inclusive moment from start to finish, enjoying everything from a luxury hotel stay in modern Reykjavik to a beautiful culinary program at sea to a choice of shore excursions in every place we visit.
Meet Accomplished Climber and A&K Explorer in Residence Alex Pancoe

Guests on this exciting expedition are joined by accomplished climber Alex Pancoe, who recently summited Mount McKinley in Denali National Park in July 2019 and achieved what very few have: the Explorers Grand Slam. It was his recovery from a brain tumor diagnosis at 18 that inspired him to climb the seven tallest peaks, with the goal of raising a million dollars for the hospital where he had received care, Ann & Robert H. Lurie Children's Hospital of Chicago. Next up for Alex, who lives in Chicago: climbing "the savage mountain" of K2 in Pakistan.
Choose Your Own Adventures at the Top of the World
Explore a Volcano

Set off on a challenging walk to the top of Eldfell volcano on the Icelandic island of Heimaey, followed by a descent to the Eldheimar museum, where the story of the volcano's 1973 eruption comes to life.
Rappel with an Everest Summiter

In Qaqortoq, Greenland, take on a fully supported rappel down a rock formation — one of many adventures joined by A&K Explorer in Residence Alex Pancoe.
Kayak a Greendlandic Fjord

In Narsaq, Greenland, experience the waters of Tunulliarfik Fjord, where you can kayak the serene shoreline or venture out on a challenging fast paddle into more exciting waters.
Trek the Greenland Icecap

Strap on crampons and steady yourself with trekking poles as you set foot across the awe-inspiring Greenland Icecap, the second largest ice body in the world.

Hike from a Mine to a Military Base

This fascinating excursion takes you on a three-mile hike from an extremely rare cryolite mine to "Bluie," an abandoned Danish naval base in Arsuk Fjord.
Summit a Waterfall

Soak in expert tips and training from Alex as you ascend Iceland's impressive Dynjandi falls, which involves a rigorous hike and a scramble up a steep cliff.
Tickets to Events >> Tickets to Events Travel
Phone:

281 363-0808