/

/

Kiwanis 29th Annual Kids Fishing Tournament teaches patience, endurance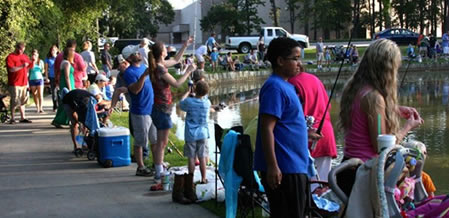 THE WOODLANDS, Texas— The Kiwanis 29th Children's Fishing Tournament registered 250 kids from toddler age to 16. The annual tournament was held in the Panther Creek Village at Creekwood Park, across from McCullough Junior High. Bait was provided along with free refreshments. The kids just needed a rod and reel, and a whole lot of patience.
The fish were almost outnumbered. Of the 250 participants, 187 fish were caught by 91 of the kids. The winner with the best stringer was Anthony Miranti, who caught 11 catfish!
The winners of the largest fish caught were:
Kayden Vang (4 yrs. old) caught a 4.61 lb. catfish
Jake Perugini (7) caught a 4.56 lb. catfish
Sierra Coker (4) caught a 4.45 lb. catfish
The event is so much more than just a kids activity. It's an exercise in learning life skills. All participants are winners for exhibiting the patience and endurance, not only necessary to become a good fisherman, but to be successful in life.
The Woodlands Kiwanis Club is a chapter of Kiwanis International whose mission is to serve the children of the world. Meetings are held weekly at the South County Community Center on Lake Robbins Drive, Thursday mornings at 7 a.m.
A wide range of informative and entertaining topics are presented to attendees who include their members - men and women of all age groups, from all walks of life, and community service-oriented teenagers from area high schools, the Kiwanis Education Youth (KEY) Clubbers. Visitors are cordially invited and warmly welcomed. For more information about The Woodlands Kiwanis Club visit their website.
Photo by Carlos Gonzalez