Michael Rahn, CFP® at The Sum provides clients with roadmap to financial success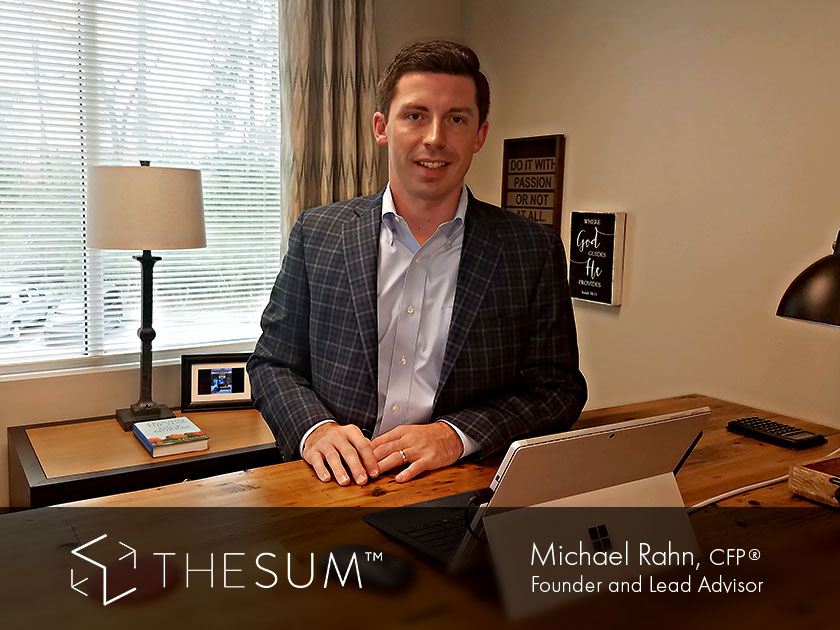 THE WOODLANDS, Texas -- Michael Rahn, Founder and Lead Advisor at The Sum, is a CERTIFIED FINANCIAL PLANNER™ making changes in the industry. Rahn provides clients with personalized steps to reach financial goals with a unique approach.

This native Houstonian graduated from Texas State University with a degree in finance in 2007 before obtaining his CFP® designation. For about a decade, Rahn worked with hundreds of clients through a large financial institution in The Woodlands.

As an independent, fee-only registered investment advisor The Sum certainly stands out. Providing advice that is custom tailored to client's needs is a top priority. This concept is very apparent in The Sum's fee structure. Charging a flat fee for service versus a percentage of assets managed is disruptive to the normal advisor model. The Sum doesn't have any products to sell clients; only top-notch advice.

Rahn said, "The service model is unique and transparent. Clients know exactly what they're paying and who they're paying it to." The Sum offers financial planning and investment management as separate services. As a client, you can choose how to engage with The Sum. If you manage your own investments, The Sum can still handle the on-going financial planning for you. If you choose to have your investments managed, The Sum charges a flat fee that's very competitive.

Rahn said, "My advice model is highly personalized. Clients don't reach out to an 800 number or a service team, they talk to me directly." Service is a high priority at The Sum, and providing a consistent, personalized experience matters to clients. Technology allows for much more bandwidth today than advisors enjoyed decades ago. The need for multiple layers of people is not required and therefore keeps costs down; that transfers directly to the client.

"Real financial planning" is what Rahn says The Sum provides. "Given that our fee is not tied to an investment portfolio, I remove the conflict of helping clients holistically. If a client wants to expand into rental properties, for example, I can help a client without worry that they may take money away. Given that the fee is tied to net worth and not investments, we eliminate a big conflict of interest. This is what it means to be a fiduciary."

The Sum serves mostly retirees and pre-retirees in The Woodlands and surrounding areas. This includes people 5-10 years away from retirement, transition into retirement and the income generation years of retirement. Given the Houston demographic, oil & gas is an area that The Sum has extensive knowledge in; but it doesn't stop there.

The Sum became a reality for Rahn in July of 2018. The office is in the Sterling Ridge area and is an ideal spot for Rahn. "The Woodlands has just about everything you need without having to leave the suburbs, and we really like that," Rahn said. "The people are wonderful, the scenery is beautiful, the restaurants are excellent and the activities are really great." As a pilot, Rahn and his wife Marissa enjoy flying around Texas, mountain biking and staying active in their church.

The Sum plans growth and expansion in 2019. To schedule a complimentary Discovery Meeting with Michael Rahn, reach out at info@thesumplanning.com or view the website at www.thesumplanning.com.