/

/

Kirby Ice House grand opening brings the heat to The Woodlands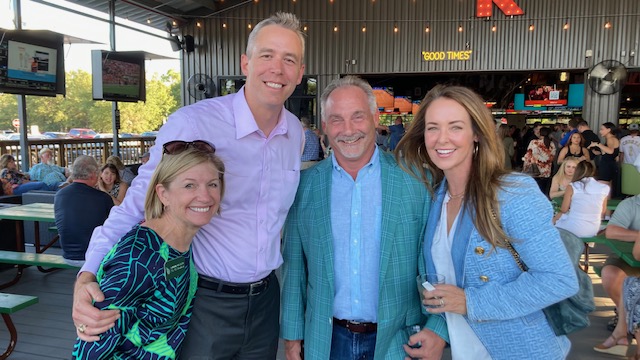 THE WOODLANDS, TX – Woodlands residents and visitors may have noticed construction at the former site of the annual – and temporary – ice rink next to The Woodlands Mall. This new building, however, wasn't a new ice rink; it was a new ice house.
Newest watering hole has something for everyone
Kirby Ice House recently hosted a Friends & Family Opening Event at its heart-of-the-Woodlands location, 1700 Lake Robbins Drive. Hundreds of people showed up for VIP treatment that included fully stocked shelves of the officially longest bar in Texas, multiple TV screens inside and an enormous projection screen outside, and some scrumptious bites provided by Chef Ricardo Bravo of The Woodlands Resort and the Back Table Kitchen & Bar.
Billed as "a neighborhood pearl," this latest addition to the bustling central part of The Woodlands is easy walking distance from the mall, the Waterway, the Pavilion, Market Street, and more is a welcome oasis for the hungry, thirty, or weary traveler. Approximately 28,000 square feet of indoor activity and a manicured, fenced-in outdoor area is large enough to host any grand party, and intimate enough for couples to enjoy some quality time alone.
Woodlands Online caught up with Jim Carman, president of the Houston region for The Howard Hughes Corporation. "We've been working on bringing an ice house concept to The Woodlands for almost ten years, and we're so excited to finally get it done," he said.
The concept of Kirby Ice House is made for the convenience of its patrons. Along with the large parking space, a dedicated lane for ridesharing passengers who may have indulged too much is available. A full food truck schedule is available to entice hungry visitors time and time again, and the food can be washed down with one of the sixty beers they have on tap.
"Kirby Ice House is really the best operator of this concept in the Houston area and even perhaps the country," said Carman.