/

/

Hubbell & Hudson Named Retailer of the Year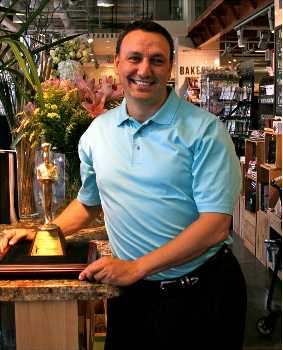 Local market, eatery and cooking school becomes one of only six retailers across US to claim Retailer of the Year title

THE WOODLANDS, Texas - Local, upscale, artisan-food retailer, eatery and Viking cooking school, Hubbell & Hudson Market & Bistro of The Woodlands just received the sought-after title of Retailer of the Year by the National Association for the Specialty Food Trade, Inc. (NASFT). The coveted award was given to six retailers across the U.S. who were nominated by members of the NASFT.

"Hubbell & Hudson has gained a lot of attention since opening its doors in 2008. It was a very tough time in the economic cycle and many people wondered whether or not we would survive the down turn" said Cary Attar, CEO and founder, Hubbell & Hudson. "We are incredibly honored to receive this prestigious award. It shows that we are doing what we set out to do when Hubbell & Hudson was conceived. That is to provide clients with the very best in all things culinary."

Only six outstanding retailers were selected by a panel of specialty food experts who met at NASFT offices recently to evaluate submissions from an impressive list of nominees. The winners range from a chain established more than half a century ago to a single store, Hubbell & Hudson Market & Bistro, opened in late 2008.

Added Attar, "Across our store you'll see examples of what makes Hubbell and Hudson a not-to-be-missed food destination, from the moistest, tender dry-aged meats in the butcher case; to the freshest, tastiest locally grown produce; the unsurpassed packaged foods; the finest cheeses and deli meats in our charcuterie; our progressive bistro with a seasonally driven menu; and a world-class Viking cooking school. We work non-stop to bring the finest culinary experience to everyone who steps through our doors. It's our love. It's our passion."

Nominations for Outstanding Specialty Food Retailers were made by members of the NASFT. Retailers with the most nominations were asked to submit information including a fact sheet, store photographs, press kits, media coverage, menus, newsletters, training manuals, promotional materials, and letters and comments from customers. The judges, including previous Outstanding Retailer winners, manufacturers, distributors, and journalists, met at NASFT offices in New York to evaluate the entries and select winners.

"The retailers honored this year are stand-outs in our industry. They reflect day in and day out the high standards, creativity and business savvy required for success in specialty food retailing today," said Ann Daw, president of the NASFT. The awards were presented at the Summer Fancy Food Show in New York.

Directions, Parking
Hubbell and Hudson is located in The Woodlands at 24 Waterway Avenue, near Lake Robbins Parkway between Waterway Avenue and Fountain Street. Free parking is located in the parking garage on Fountain Street.

Hubbell & Hudson Market & Bistro
Hubbell & Hudson Market & Bistro is a world-class culinary destination that includes a market, bistro, Viking Cooking School and full-service catering. From the tools to prepare great foods to the great foods themselves, it is all available under one roof. Hubbell & Hudson is located at 24 Waterway Avenue at Lake Robbins in The Woodlands. For market hours, bistro hours, menus and complete details on the cooking class schedules, visit the Web site or call 281 203-5600.