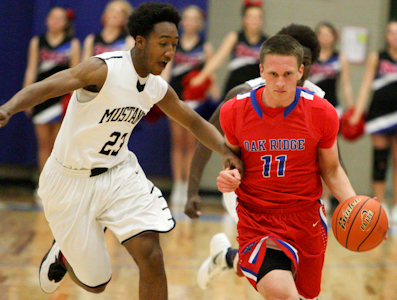 THE WOODLANDS, Texas – After one round of District 14-5A play, a clear-cut leader has emerged.

The Woodlands High School boys' basketball team (22-5) completed a perfect 6-0 first round at home Friday with a convincing 69-48 victory over the visiting Oak Ridge War Eagles.

Zach Manning scored 17 points to lead the way while Xavier Valdes added 12 more. In all, 12 players on the Highlanders roster scored points. Hayden Galatas finished with eight points and Brian Baehl contributed with six points.

Timi Adeleye, Garret Colonna and Cody Mason scored five points apiece while Garrett Burlas and Clay Fisher tallied three points each. Both Joe Primavera and Jack Clark scored two points with Garrett Smith adding one more.

Bryan Lehmann and Trumaine Jefferson led Oak Ridge with 13 and 12 points respectively.

The Highlanders, ranked No. 25 in the state in Class 5A, took charge in the second quarter, breaking a 15-15 tie with a 22-8 run. They added to a 37-23 halftime advantage with a 15-9 edge in the third quarter.

The Woodlands hosts Conroe at 7 p.m. Tuesday. Oak Ridge hosts College Park at 7 p.m. next Friday. The Cavaliers held off Bryan 57-54 on the road Friday. Byron Makel pumped in 21 points and Keanu Andaya added 16 more to lead the way.

The Woodlands Christian Academy boys' basketball team, ranked No. 2 in the state in Private Small Schools, earned a 60-36 victory over Brazos Christian on Friday. James Bento and Jeremy Swisher scored 17 and 15 points respectively for the Warriors.