Stay cool this summer with pool construction and maintenance from Northside Pools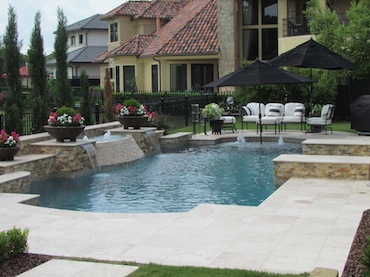 THE WOODLANDS, Texas – Summer is near, and to prepare for the sweltering Texas heat, spring is a popular season to have pools built and remodeled, gearing up for the hottest time of the year. At Northside Pools, Inc., they can take care of it all: from pool service and repairs to new pool construction and pool remodeling, making sure that your pool is summer ready.
Make a splash with a custom built pool from Northside Pools
Founded by Nathan Croswell in 1996, Northside Pools is a family-owned business. Croswell himself can often be seen at job sites, involving himself in the day-to-day process as much as possible. Croswell and his team pride themselves in being a company that provides professional designs and upstanding craftsmanship, with a mission to make their clients have a positive experience with a pool that is easy to maintain.
"My dad and brother work here, and the other guys that work here are all friends from high school. We are just one big family," said Croswell. "I do all of our meetings for new pools, but I also go to all of the jobs. We all work together."
The BBB accredited business builds pools of all shapes and sizes depending on the preference of the customer, as well as outdoor kitchens. From free form, lagoon and geometric pools, to spas, bridges and waterfalls to accompany pools, Northside Pools can create a beautiful outdoor oasis with a variety of different styles. In the past few years Croswell was sure to point out that freeform lagoon pools with waterfalls have been a popular choice, but now there is a growing trend towards geometric pools.
"For the last couple of years, everyone has been wanting lagoon pools. Now it has changed, now there are more geometric pools," said Croswell. "I think that has a lot to do with the booming housing market. Most people that build a pool have already had one, and if they already had one, they more than likely had a lagoon style, free form waterfall pool. So they don't want the same thing, they want something different."
Maintaining a pool after it is built is extremely important. Aside from pool construction and remodeling, Northside Pools also provides pool maintenance, services and supplies. In fact, the company has a full service department specifically to help customers maintain their pools. Northside Pools is located at 25435 FM 2978 and is complete with chemicals and pool supplies.
For all of your pool needs, the choice is crystal clear. Overall, the family-owned business makes their customers their top priority, ensuring personable and upstanding customer service while turning backyards into beautiful outdoor oases, perfect for the summertime.
For more information about Northside Pools, Inc., visit the website provided below or call 832-473-7665.