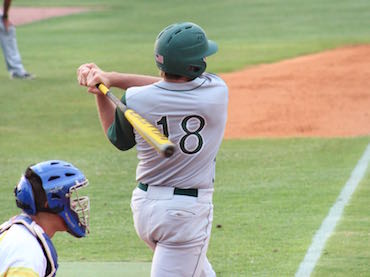 SPRING, Texas - Zach Gartner and Chris Andritsos each hit home runs, combined with a shutdown pitching performance by Andritsos, to lead The Woodlands Highlanders in a 2-1 Bi-District playoff victory over Klein on Thursday night.
The Woodlands advances to Area round next week
The Woodlands (12-14-1) got the early momentum on a solo home run in the top of the first inning from Gartner for an early 1-0 lead.
The Highlanders would add to the lead in the top of the third inning when Chris Andritsos led off the inning with a crushing solo home run to center field to give The Woodlands a 2-0 lead.
Klein, the district champions of neighboring District 15-6A, tried to rally in the bottom of the seventh inning when Kevin Roliard hit a line drive solo home run to left field to cut The Woodlands' lead down to 2-1. Andritsos would rally and retire the next three batters on a line out to Kade Markle, a strikeout, and a pop out to Ben Gooch in center field to end the game.
Andritsos got the complete game victory, scattering just four hits, allowed just one run, two walks while striking out eight on 97 pitches.
The Woodlands will advance to the Class 6A Region II Area round and await the winner of the Austin Bowie vs. Pflugerville Hendrickson next week.