/

/

Elite Yong-In Taekwondo offers summer classes for dance demo teams and offsite physical education
Elite Yong-In Taekwondo offers summer classes for dance demo teams and offsite physical education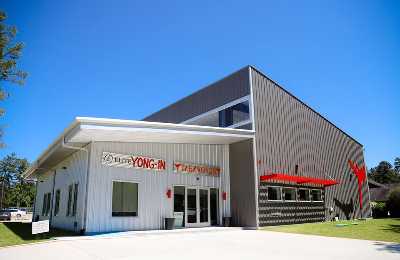 Parents who are wondering how to keep their 7th and 8th grade-aged children occupied during the summer break have been given a unique option by a local martial arts studio.

Elite Yong-In Taekwondo is now offering special classes for Dance Demo Teams. Additionally, a class in specialized offsite physical education is offered in partnership with the Conroe Independent School District.

The classes will be held at the dojo located at 32818 Tamina in Magnolia just a few blocks off the western edge of The Woodlands. The capable, professional staff – led by Grand Master Sung Min Park – has set forth several curricula guaranteed to keep students engaged, educated, and ahead of their peers.

"Our Demo Team classes combine traditional demonstration – such as board-breaking and self-defense – with Taekwondo dance," said Park. "Team members will be able to showcase their individual talents and group skills, and will be given the chance to compete in group forms. We want to use this unique team to build confidence and develop self-worth within our athletes."

Park instituted the classes as an outlet for young ladies who were unable to join their schools' cheerleading and dance squads, so that they can hone their skills for more positive results in the next school year. The classes, which will be held Mondays through Fridays, will benefit children in or going into 7th or 8th grade who are interested in dance, martial arts, self-defense, exercise, and team-building.

"We wanted to have a strong focus on providing team-building skills to the up-and-coming generation of young women," said Park. "Our curriculum is designed to build their confidence to better equip them for life in high school and beyond."

Park stresses that the goals in these classes are for students in an important phase of their lives to build confidence, develop performance and self-defense skills, and learn to perform under pressure and in front of large crowds. "Our teams will learn martial arts skills, flexibility, strength, grace, rhythm, precision timing, acrobatics, self-control, discipline, patience, and confidence. We will help them gain benefits from exercise, extensive stretching, team atmosphere and martial arts training."

The Dance Demo Teams will also perform at scheduled venues, including the Trick or Treat Trail, the annual Lighting of the Doves, and a local tournament and state tournament for the USA Taekwondo Association.

Additionally, in partnership with Conroe Independent School District, Elite Yong-In is offering off-campus physical education (PE) classes. These classes will be offered Mondays through Fridays, with a time commitment – established by CISD – of five hours per week and four performances. There will be a one-week camp held August 3-7. Students in the Dance Demo Team will be released one hour early Monday through Friday for offsite PE.

"The grades earned in the offsite PE class will be determined by attendance and mastery of the curriculum and routines," said Park. "This is an excellent opportunity for your students to keep active and learn new skills while earning a grade outside of the classroom."

Conroe ISD has authorized an extended registration period for the offsite PE classes. Interested students and their parents can register through June 15. To register or for details, rates and class times, contact Brittany Campbell at 281-789-7114, or visit www.eliteyonginTKD.com.