Children's Author and Illustrator Set To Visit The Woodlands Children's Museum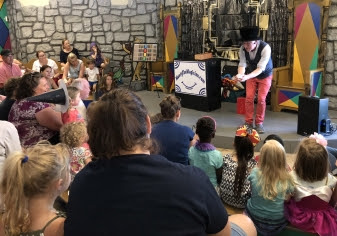 THE WOODLANDS, Texas -- Thom and Nancy Binford will read the heartwarming holiday book they created together, The Last Christmas Tree, at The Woodlands Children's Museum on Dec. 14.

The Last Christmas Tree, written by Thom and illustrated by Nancy, is the enchanting story of a not-so-handsome tree hoping to find a home on Christmas Eve. As one family after another passes him by, the tree feels more and more dejected. He is just about to give up on being selected when a little boy notices him.

Thom and Nancy will begin reading at 11 a.m. and then stay until 12:30 p.m. for a meet-and-greet, where they will sign and sell copies of their paperback book ($12.99).

"Not only is The Last Christmas Tree a magical holiday story, it also conveys wonderful messages about kindness, acceptance and the value of looking beyond surface appearances," said Angela Colton, executive director of the museum. "Families will love the book's compassionate, beautifully told story and its exquisite illustrations."

The Binfords will accept payment for their book in the form of cash, checks made payable to Nancy Binford or Thom Binford, Visa, MasterCard, American Express and Discover.

The Binfords' visit is included in the museum's regular daily admission, which is $6 for visitors age 1 and older. Children must be accompanied by an adult at all times. The Woodlands Children's Museum is recommended for ages 7 and younger.

For more information, visit woodlandschildrensmuseum.org or call 281-465-0955.