WeWork The Woodlands to help members do what they love while connecting to global community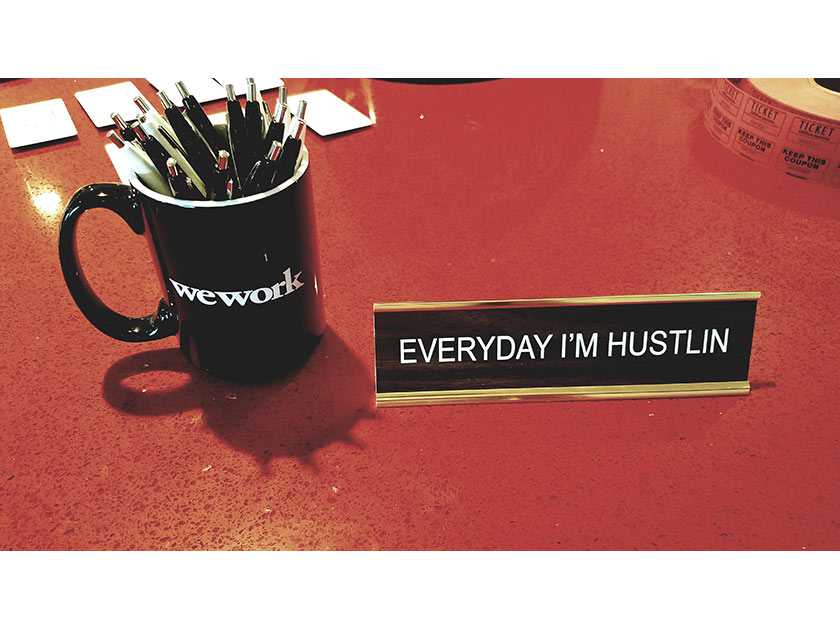 THE WOODLANDS, TX -- "Create a world where people work to make a life, not just a living." - WeWork mission statement.

Hughes Landing is the home for WeWork's newest Houston area location. WeWork operates globally and provides innovative workplace solutions for businesses and professionals, regardless of company size, maturity, or space needs. July 1 marks the opening day for WeWork The Woodlands. The location partnered with the Houston Rockets to host a launch party on June 13.

WeWork has a high-level, regional partnership with the Houston Rockets. Calvin Murphy, legendary player for the Houston Rockets, and Zee French, vice president of ticketing for the Rockets, both spoke highly of WeWork during the launch event. During the launch party, residents, members of The Woodlands Area Chamber of Commerce and local businesses gathered to support WeWork and tour the facility so close to completion. WeWork employees all wore company shirts bearing the words "Do What You Love." The team strives to make it easy for members to do precisely that.

Being positioned in Hughes Landing comes with many perks for any businessperson. A parking garage is conveniently attached to the office building located at 1725 Hughes Landing Boulevard. Before even entering the office, you'll see a lovely landscaped courtyard filled with plants and seating which offers a tranquil place of recharge. Gorgeous views of the water, trees, and cityscape of The Woodlands stretch for miles out the windows of WeWork found on the 10th and 11th floors.

The full design concept inside WeWork won't be fully revealed until opening day. "We're really trying to pay tribute to the Howard Hughes history here," Roniel Bencosme, Houston WeWork community director, stated. A tour of the facilities showcased beautiful and flexible workspaces.

Offering 50,000 square feet of work and community member space, WeWork covers the bases of business needs from conference rooms, private offices, hot desk areas, a kitchen and coffee bar. A distinctive feature utilized by WeWork members globally are the telephone booths. These small, comfortable booths provide a quiet environment to be centered and get necessary work done.

In addition to maintaining an environment conducive to productive work, WeWork offers members the services of their community team. "Our community team is really an extension of your team," Bencosme said. "So they'll be checking in your guests. They'll be checking in your mail and packaging. They're also going to be cultivating events in the space, anywhere from 10 to 20 events in a month." The WeWork community team will host happy hours, lunch and learns, panel discussions, meetups and other events for members.

The immediate response WeWork has experienced upon moving into The Woodlands communicates a rising demand for this niche market. WeWork Hughes Landing location will open their doors on July 1 with an outstanding 75 percent occupancy rate. The entire 10th floor is dedicated to a private member. The 11th floor offers an additional 40 offices that range from one-person private offices to an office space suited for over 200 people.

Here are a few WeWork global statistics worthy of note:
- 466,000+ members globally
- 485 physical locations
- 105 cities
- 28 countries
- More than one-third of WeWork members are Fortune 500 companies

Entrepreneurs, freelancers, small businesses, middle-market companies and Fortune 500 corporations worldwide have discovered the benefits of collaborative thinking, a more engaged workplace and community-building afforded by WeWork membership. Visit the website for more information, schedule a tour of WeWork The Woodlands, and learn how your career can grow in meaningful ways by becoming a part of the WeWork global community.