/

/

Valentine's Day Event at MD Anderson The Woodlands Spreads Love to Breast Cancer Patients and Survivors
Valentine's Day Event at MD Anderson The Woodlands Spreads Love to Breast Cancer Patients and Survivors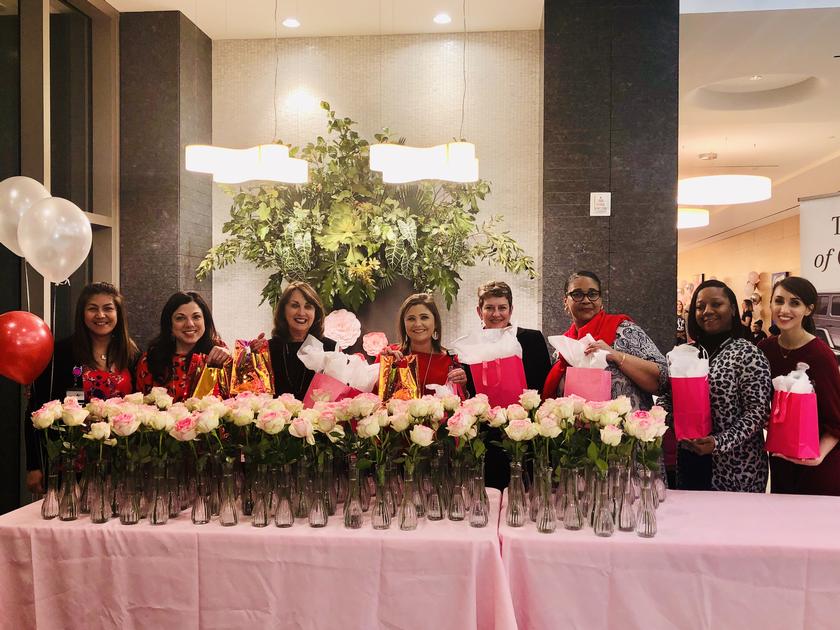 THE WOODLANDS, TX – Pamper Me Night is an evening dedicated to pampering breast cancer patients and survivors in honor of Valentine's Day. Nearly 130 women attended the event Feb. 12 at MD Anderson Cancer Center.

Think of it as an all-out Galentine's. There's dinner, flowers, dessert, gift bags, and fun and relaxing services, such as massages, makeovers, free shopping, and more.

Radiation Oncologist Dr. Pamela Schlembach started Pamper Me Night eleven years ago with the help of community members and friends.

"I was asking patients what they were going to be doing for Valentines Day, and the ladies began to tell me their heartbreaking stories," Schlembach said reminiscently. Many informed her that they no longer celebrated Valentine's Day because they didn't feel beautiful or cared for. They shared ways in which cancer had destroyed their self-esteem and how some of their partners abandoned them upon their diagnosis. "This holiday is very painful for them," she said.

Inspired by Gary Chapman's Book, The Five Love Languages, Schlembach crafted an event that could provide her patients with Gift Giving, Words of Affirmation, Physical Touch, Acts of Service, and Quality Time.

"This particular event is super special for the ladies, they truly light up," said MD Anderson Breast Nurse Navigator Nicole Luckett. "It's our favorite night of the year … the ladies come and feel pampered and taken care of during a time in their life that can be very challenging," she said.

Cheryl Ward has attended Pamper Me Night for the past four years. She beat stage four breast cancer and is currently battling stage four lung cancer. "This event gives me a sense of having my life back," she said. "When you have cancer, or you're a cancer survivor, you feel like you've lost a part of yourself … but when you come out here, there's so much love in the atmosphere, and it gives you a sense of being back to yourself again," she said.

Pamper Me Night could not have been made possible without the following organizations and volunteers: Mercedes Benz of The Woodlands, National Charity League of The Woodlands, The Crossing Church volunteers, Aveda, participating private practice massage therapists, Mary Kay, Christian Healing Prayer Team, Gayla Wigs, Angela Cecilia Mentesana, Dress for Success, Faith Montgomery, Chick-fil-a, Tommy Bahamas, and MD Anderson staff.