Apergy Corp. and The Woodlands Children's Museum Serve Over 1,000 Area Students Through Free Field Trips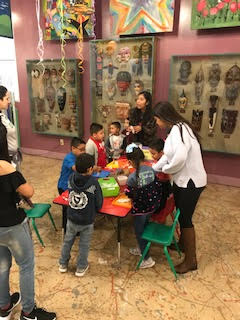 THE WOODLANDS, TX – Sounds of laughter and excitement fill The Woodlands Children's Museum on Monday mornings, as dozens of students from area schools enjoy a special day at the museum.

Throughout the 2019-2020 school year, the Apergy Corporation ('Apergy') (NYSE: APY) and the museum have partnered to provide free field trips to pre-K and elementary students in Conroe ISD who attend economically disadvantaged schools. During each visit, students have the opportunity to enjoy more than 15 interactive exhibits, create a custom-designed art project to take home and participate in group activities that are coordinated with classroom curriculum.The museum is closed to the public on Mondays during the school year, so students have the ability to rotate through designated stations and enjoy the museum in a group setting.

"It has been such a joy to offer this program to students this year. For many, this is their first time visiting a museum," stated Angela Colton, Executive Director of The Woodlands Children's Museum. "Children's museums are a natural extension of the classroom and we are thrilled to be able to offer this hands-on learning opportunity."

Since September, nearly 1,000 students have enjoyed a free visit to the museum. Support for the program is generously provided by Apergy, a Woodlands-based corporation that serves as a leader in providing highly engineered equipment and technology that allows companies to drill for and produce oil and gas safely and efficiently around the world. As part of its vision to improve lives and engineer good in communities, Apergy supports the museum's mission to create learning opportunities for young children.

Sivasankaran 'Soma' Somasundaram, President and Chief Executive Officer, stated, "As a
purpose-driven company, Apergy is committed to improving lives in the communities where we live and work. In addition to our financial support, our team members donated thousands of hours of service to local communities and humanitarian organizations this past year. As we see it, our partnership with The Woodlands Children's Museum offers area children a great educational experience and our team members the opportunity to share their time, energy and talents."

Since last Spring, Apergy team members have donated over 160 volunteer hours at the museum. Through their efforts, thousands of art projects have been prepped for events and community festivals such as Lighting of the Doves and The Woodlands Waterway Arts Festival. In addition, volunteers have packed over 700 snack bags that will be distributed to children in need in our community.

"The museum provides art projects at numerous community festivals throughout the year.
Prepping for each of these events requires many hours of staff time, so we are very grateful to Apergy team members for their assistance," stated Colton.

Schools interested in visiting the museum can find information online at
www.woodlandschildrensmuseum.org. To be eligible for free field trips, schools must receive Title I, Head Start, or Early Head Start federal funding. The Title I program, administered by the U.S. Department of Education, provides federal funding to schools whose student population is at least 40 percent economically disadvantaged. Head Start and Early Head Start are preschool programs administered by the U.S. Department of Health and Human Services to promote school readiness for children from low-income families by supporting development in a comprehensive way.

Visits to the museum are available for pre-K and Kindergarten students. For larger groups and children in first through fourth grades, in-school field trips are also available. This option allows museum staff to visit the school and conduct sessions throughout the day with multiple classes. All supplies are included, and schools can choose from various topics in the "Art Around the World" curriculum, such as Masks from Around the World, Musical Instruments from Africa, Adornments from Around the World, and Containers from Around the World. The in-school field trip allows children to enjoy a multi-sensory, museum-quality experience within the convenience of their own school.

"Bringing children to the museum—and bringing the museum to children—helps foster
creativity, critical thinking, and cultural awareness," Colton said. "One day can make a huge difference in the life of a child. We are grateful for the opportunity to create this difference and very appreciative to Apergy for creating such a positive impact in our community."

Schools interested in a field trip can contact the museum at 281-465-0955 or via email at
outreach@woodlandschildrensmuseum.org.