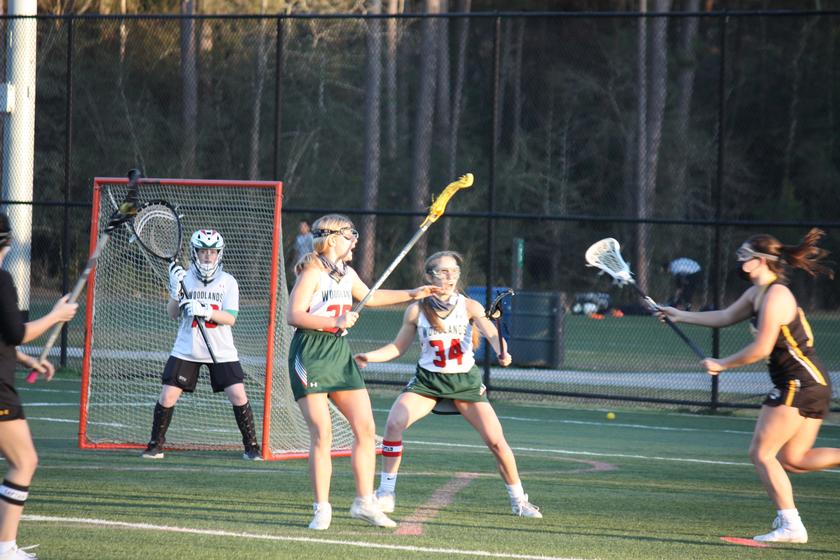 THE WOODLANDS, TX - Rayne Dobson and The Woodlands Lady Highlander Lacrosse team fell behind early, 2-0 but came out of hibernation real quick to put together one of the most well-rounded performances in recent team history with a resounding 14-6 victory over St Agnes. This is the second stellar performance in a row for The Woodlands (2-0) after shutting out Houston Christian last week, 19-0.

A sophomore, Dobson did it all in tallying four goals, an assist, two ground balls, two interceptions, caused four turnovers and helped out in the face-off circle winning two draws in Ashleigh Dixon's absence. The only thing she didn't do is sing the National Anthem.

In an inauspicious start, St Agnes scored right out of the gate and added another goal for good measure in the first two minutes of the contest. Seemingly sleeping, the Lady Highlanders woke up and were off to the races behind Mia Kouletsis's four early goals and netminder, Sophomore Jesse Cole's stingy wall-like performance.

Kouletsis, a junior and New York transplant this school year has introduced another dimension to the Lady Highlanders game with her all-around play and knowledge of the game.

Cole notched 13 saves to go along with a 68% save percentage. For women's lacrosse, anything above 50% is excellent. It isn't just making saves that makes Cole stand out, her clearing passes are crisp and arrive in a hurry to initiate fast breaks that often times lead to a quick score for The Woodlands. In addition, she's becoming one of the best ball thieves around the cage intercepting would-be passes in front constantly disrupting play for the opponent. Watch your wallet with Jesse around.

Head Coach Amy Markwart was elated with her team's performance...'We felt like we were dominant on both ends of the field relying on pressure defense, speed in transition and constant ball movement on attack. We posted goals from multiple players for a truly team effort.'

Kouletsis led all scorers in lighting the lamp six times. Ali Petty added two goals while G Herrmann and Leah Niznik contributed a goal apiece. Captain EB Billig got in on the act contributing three ground balls and an interception. Grace Renaud had two ground balls and caused six turnovers and appears to be the Energizer Bunny of the team. Devon Suess won four draws and caused six turnovers in a solid effort. Liberty Hasselgren had a ground ball and caused a turnover. Lola Killidjian intercepted a pass. McKenzie Kulick contributed a draw. EG Traweek had an assist, won four draws and had a ground ball in a solid performance for the speedy senior.

Billig was encouraged with the team's overall play...'I feel like the team is off to a really great start. One of the most promising things about it is that while we are playing well and working as a cohesive unit, there is still room for improvement and the potential for success is high.'

WORTHY OF NOTE: The 2020 shortened Covid season saw the Lady Highlanders play down to the level of their opponents. This team has already dispelled the Dr Jeckyl and Mr Hyde myth. This just in...These women are ALL SYSTEMS GO!

Information regarding The Woodlands girls lacrosse team can be found at www.thewoodlandsgirlslacrosse.org.

The Woodlands plays perennial power, Lamar in an away tilt Thursday.