Siemens and Globant are accelerating digital transformation in the energy industry; Lunch Forum in The Woodlands set to discuss trends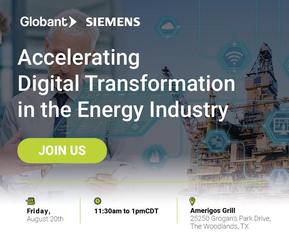 THE WOODLANDS, TX -- Siemens and Globant have paired up to accelerate digital transformation. Their invite-only networking event is an opportunity to connect and learn about the latest digital transformation trends within the Oil&Gas, Energy, and Mining industries.

'The theme of this Lunch Forum is Accelerating Digital Transformation in the Energy Industry – Focus on adaptability, scalability and accelerated development in order to survive in a competitive environment," said Larry Deckerhoff, Global Executive and trusted adviser to companies and entrepreneurs in The Woodlands, with 20 years of leadership experience.

This in-person event is Friday, August 20 from 11:30 a.m. to 1:00 p.m. MDT, hosted at Amerigo's Grill in The Woodlands, Tx. Guests will enjoy exceptional food and wine, meet with industry and product subject matter experts, and plan the next steps of their digital enterprise journey.

The luncheon will be hosted by Jose Manzano, North America Country Manager for COMOS Industry Solutions at Siemens, Guillermo Bodnar CSO at Globant, and Jim Wicklund, Managing Director at Stephens Inc. Larry Deckerhoff, Sr. Client Partner at Globant, will serve as Master of Ceremonies.

"Siemens Digital Industries offers cutting edge software solutions for process industries, while Globant's expertise in technology, data, and digital culture adoption closes the gap to effectively implement innovative digital solutions."

Available space is limited. Be sure to register, here.