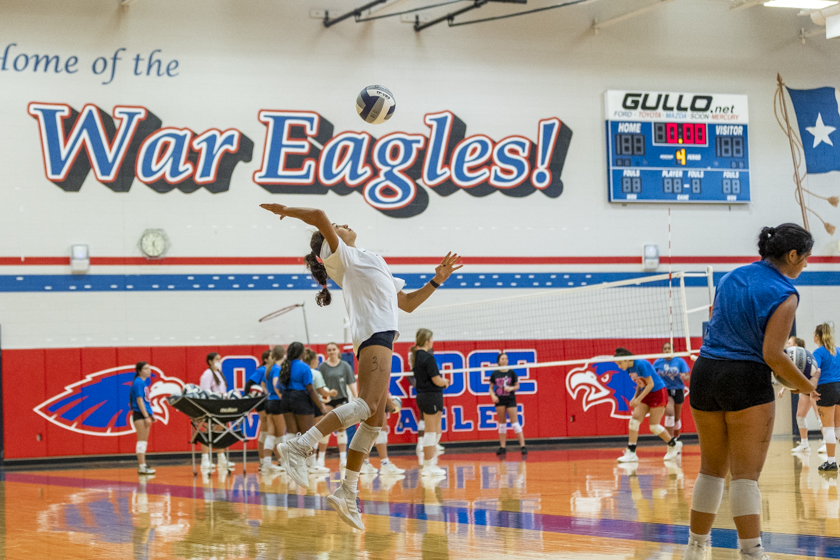 The 2021-2022 Oak Ridge Lady War Eagles are once again led by highly experienced head coach Tommie Sledge. The new/old coach, Sledge, is back after a 3 year leave coaching and organizing the new Lake Creek volleyball program. She brings her 9 seasons of knowledge and over 300 wins to the already dominant Lady War Eagles.

When asked about coming back, Sledge replied, "It feels like home...there is new staff but nothing else has changed."

Tommie Sledge will be only the 3rd Head Volleyball coach in War Eagle history replacing Rachel Croley who has been coaching since 2018. Croley made a huge impact on the Oak Ridge Volleyball program although having a short run with the team. She was able to guide the girls in the right direction with her knowledge of the game and her ability to teach those who needed help on an individual level.

"This team wants to grind," said Coach Sledge as practice finished up.

When asked who she was ready to face this year she replied, "I look forward to everyone. There is not a coach in the district I haven't faced before."

As far as the district goes, Tommie Sledge has her experience but the competitiveness of the schools give new challenges. Meaning, Oak Ridge has to put in the work if they are willing to win and enter the playoffs this year.

"There are never two teams that are off in this district." said Coach Sledge explaining it will not be easy to win. "We train to win. You have to earn the win, don't expect the 'W'."

The Lady War Eagles are set to face New Caney next in a Non-District home match on August 17th.