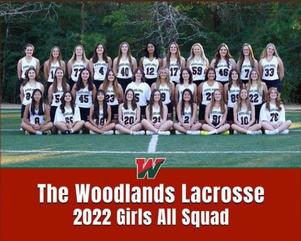 THE WOODLANDS, TX -- In what could be described as the biggest win in recent Lady Highlander Lacrosse history, Coach Amy Markwort led her new and improved 2022 team over Lamar, 9-8 Friday night at the Gosling Sports Complex in The Woodlands, Texas.

The Woodlands (1-0) lost to Lamar (0-1) twice in 2021 to include being knocked out of the playoffs as the Texans made their way deep into the state playoffs. However, if revenge is best served up cold, the Gosling Sports Complex should be renamed the frozen tundra.

The Woodlands jumped out to an early 2-0 lead and seemed to have all of the momentum, but in true Lamar fashion they scored the next six goals to jump out to a 6-2 lead. Now The Woodlands had to climb back and needed a spark. That spark came at the hands and feet of junior netminder, Jesse Cole as she came up huge on an eight meter penalty shot stuffing the shooter for a picture perfect textbook rejection. Cole's timely save ignited a three-goal run and with the defense stepping up, the Texans failed to score for the remainder of the half making the score 6-5 Lamar at the intermission.

Early in the second half, The Woodlands got on the board at 22:56 as the athletic Meredith Hunter knotted the game at six and the see-saw battle was under way. Lamar scored next to take the lead, but The Woodlands tied it up again with an Ashleigh Dixon to Hunter connection. Rayne Dobson got in the act as she put the Lady Highlanders ahead 8-7. The teams then traded goals and with one more contortionist-like save by Cole, the team had exacted revenge on Lamar.

This game was a complete team win. Every ground ball was contested. Every Lamar ball handler had more than one defender on them. On eight meter's, Lamar shooters were caught halfway to the cage allowing Cole some reaction time in goal. The Lady Highlanders went all out from the get-go to the final whistle.

Dixon's game was on as she played her usual unselfish game in garnering more assists than goals, 3 and 1. Simply put, Dixon was all over the place picking up loose balls to lengthen Woodlands possessions keeping the ball away from the talented Lamar shooters. Rounding out her stat line, she earned five draw controls, four ground balls, two Int's and caused four turnovers.

Rayne Dobson had a goal and a draw control,
Adrienne Drickamer contributed a goal, a GB and a caused TO.
Meredith Hunter added two goals and a GB.
Co-Captain, Lola Killidjian had a GB, an INT and a caused TO.
Co-Captain, Mia Kouletsis tallied two goals, an assist, a GB and three caused TO's.
Co-Captain, Jesse Cole made 10 saves while engineering a well played defensive game plan.
Ava Miocik had two draw controls and an INT.
Senior, Lea Niznik grabbed an assist, a GB and an INT.
Marin Nordenstam found twine twice, harnessed a whopping five draw controls, scooped three GB's and committed larceny once.
Nichole McCalla had an INT and two caused TO's.
Tabi Reardon contributed a GB and comes from a tremendous lacrosse bloodline so you can count on her going 100% at all times.
Liberty Hasselgren snagged a GB and gave the team valuable minutes.
Avery Cox had a GB and a caused TO.
Leah Mason did not see any action but rest assured the girl can play some defense! In missing last season, Leah has worked hard and is ready to contribute. She will be a force to be reckoned with long before the season ends.
The speedy Kaitlin Hua adds another dimension on the bench as she can run the floor all game long, is a GB machine and is a complete team player.
Sidney Spartz moved up from playing an MVP-like 2021 JV season so be watching for her to strut her stuff on the field this season.

CAPTAINS QUOTES:

Jesse Cole:
"I loved watching the team thrive under pressure last night, and seeing them get the chance to capitalize on everything they've been working towards. They really stepped up to the challenge, and didn't back down until the very end. I'm so proud to be a part of such a hard working team, and I can't wait to keep pushing ahead."

Mia Kouletsis:
'Our team came out of the gates fast and strong. We made adjustments to our game where needed and as a team crawled back from a 6-2 deficit and played harder to defeat Lamar 9-8. We're a year smarter and better after playing with each other and trusting each other's positions. I'm so proud of our team's performance and look forward to a great season.'

The Woodlands plays Stratford at Alden Bridge Sports Park Wednesday night at 5:45 followed by the JV game.

MAGIC 8 BALL ANSWER for Will The Woodlands defeat Stratford on Wednesday night?
Shaking the 8 BALL now... and the answer is... 'Can Not Predict Now.'
You'll have to go to the game to find out.