/

/

Luxury Realtor Lists Most Expensive Estate Property in the Woodlands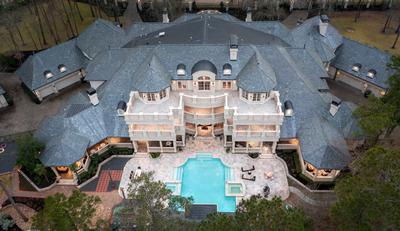 THE WOODLANDS, TX -- Listed by Diane Kink of Keller Williams Realty The Woodlands, this breathtaking grand estate boasts three full stories and is built in the opulent French Renaissance style. Nestled behind custom wrought iron gates on 4 lush, perfectly manicured acres, the home exudes luxury and elegance of times past. One step across the threshold reveals an exquisite foyer providing a fittingly grand entrance to the extravagant 30,000 square foot interior. "This estate is a tangible example of the caliber of properties and clients our team represents," says Diane Kink.
Lavish 30,000 sq ft home sits on 4 acres and is priced at $15,000,000
The award-winning luxury property specialist and her real estate team, The Kink Team, have extensive experience representing high-end properties. In August 2021, Kink sold the most expensive home in the history of The Woodlands. The home sold for about $7.5 million and her latest luxury listing, priced at $15 million, raises the bar significantly. "This Grand Regency Circle estate breaks the previous listing price record for The Woodlands by far.
Its grand columns, art niches, soaring ceilings and custom detailing brings one's imagination to life," notes Kink, adding that one can't help but imagine a lifestyle brimming with exquisite celebrations complete with elegantly suited men and classically dressed ladies covered in finery wandering the marble floors. Wine lovers will enjoy the separate, climate-controlled wine room designed to host an array of vintages. A full-scale gaming room and a theater with tiered seating to allow optimal movie viewing on a massive screen provide endless entertainment choices for family and guests alike. And with its immaculately appointed bedroom suites, Kink says the estate is also well-equipped to accommodate overnight guests as well as meet the full array of needs for family, leisure, health, and work. Learn more about this grand home by visiting 88GrandRegency.com.
Representing such a high-end luxury property isn't easy and it takes years of hard work for real estate agents to build the network, reputation, and business acumen to successfully pull it off. Kink explains, "It's very exciting to represent yet another record-breaking luxury estate in The Woodlands and getting to this point has been a long time in coming." She says they knew that eventually the local market and demand for luxury properties in the area would begin to fetch higher prices, noting that available amenities, businesses, and executives the area is attracting are seeing the value of these exclusive homes.
Clients looking for luxury properties of this caliber have a more limited inventory to choose from. Kink urges them to be prepared to act quickly when they find one which meets their needs and personal lifestyle goals. She says they are seeing high-level clients from all over the US and the globe coming to buy into The Woodlands luxury market.
If you're searching for that one-of-a-kind exclusive property, get in touch with Diane Kink of The Kink Team today by visiting TheKinkTeam.com.