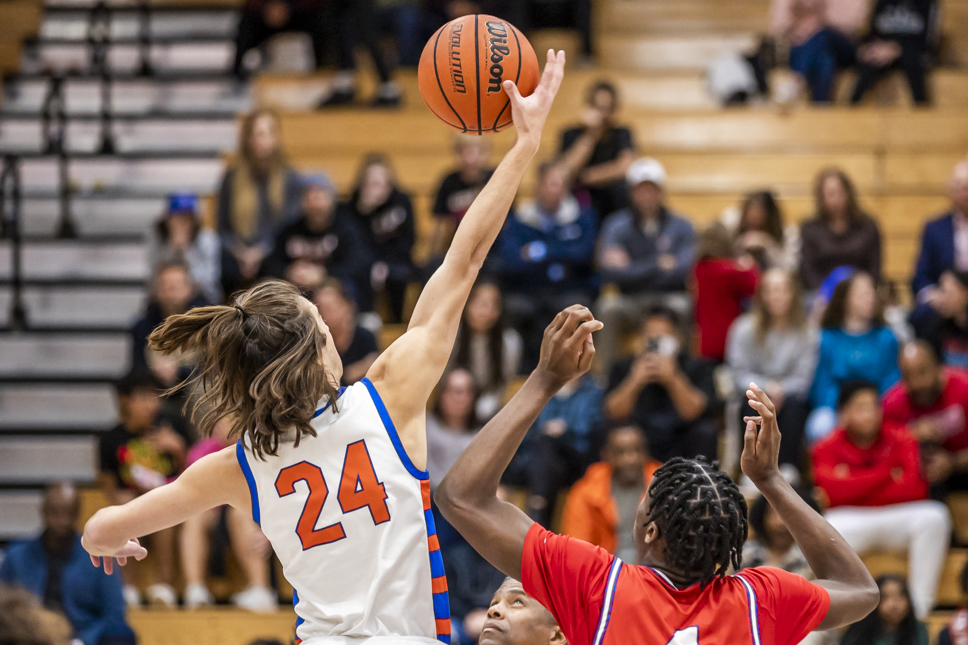 THE WOODLANDS, TX – Grand Oaks hosted Oak Ridge Friday night for another district game. Grand Oaks is looking to turn things around after a loss to The Woodlands while Oak Ridge looks to do the same thing after a loss to Conroe. The Battle of the Oaks as this rivalry is called is the first of the year.

The first quarter started off relatively fast with Oak Ridge and Grand Oaks going at it on offense. Caleb Edwards and Quintin Wilson of Grand Oaks both sank 5 points apiece, while Larry Debose and Lase Adewunmi were the lead scorers for Oak Ridge with 5 as well. Oak Ridge was able to squeeze one last bucket over Grand Oaks and led going into the second quarter by 1.


Oak Ridge gets the last second bucket to lead by 1 in the 1st. @GOHS_BOYSBBALL @Oak_Ridge_Bball

Q1
Grand Oaks - 15
Oak Ridge - 16 pic.twitter.com/bi08ta6h6T

— Woodlands Online Sports (@WOLsports) December 17, 2022
In the second quarter Grand Oaks tightened up their defense and locked in their shots from outside. They created many turnovers on defense which gave their offense a chance to open up the lead. Ian Bayomed sank 8 of the 22 points for Grand Oaks which pushed them into the lead going into the half. With an 11 point lead, Grand Oaks went to the locker room with enough confidence to keep the momentum moving in their favor.
Grand Oaks leads by 11 at the half. @GOHS_BOYSBBALL @Oak_Ridge_Bball

Halftime
Grand Oaks - 37
Oak Ridge - 26 pic.twitter.com/9VXkZRegqA

— Woodlands Online Sports (@WOLsports) December 17, 2022


The third quarter is where Grand Oaks solidified their lead as they kept Oak Ridge to just 6 points. Michael Rosaeso would score 6 of the 16 points for Grand Oaks in the quarter which gave them a 21-point lead.

Grand Oaks would shut down the lane and force many turnovers which made Oak Ridge struggle to get points on the board. They would lead 53-32 going into the final quarter.


Grand Oaks increases their lead to 21. @GOHS_BOYSBBALL @Oak_Ridge_Bball

Q3
Grand Oaks - 53
Oak Ridge - 32 pic.twitter.com/0eTs2g4xnW

— Woodlands Online Sports (@WOLsports) December 17, 2022


In the final quarter Coach Day with Grand Oaks switched out his starters to give them a rest and give the other players some minutes on the court. "I'd like to finish a little bit better. We need to try to put the pedal to the metal a bit more but I was proud of our ids effort," said coach Day about the final quarter.

Grand Oaks would take the win at home 65-51, and add another win to their district record. They looked like a different team as they passed the ball more and created better looks at the basket.

"I think our kids played well at home," said head coach Day of Grand Oaks as he reflected on the nights win.


Grand Oaks keeps their lead and takes the win. @GOHS_BOYSBBALL @Oak_Ridge_Bball

Final
Grand Oaks - 65
Oak Ridge - 51 pic.twitter.com/Leaov6mjWg

— Woodlands Online Sports (@WOLsports) December 17, 2022