HS Boys Basketball: Grand Oaks Tied for First with The Woodlands and College Park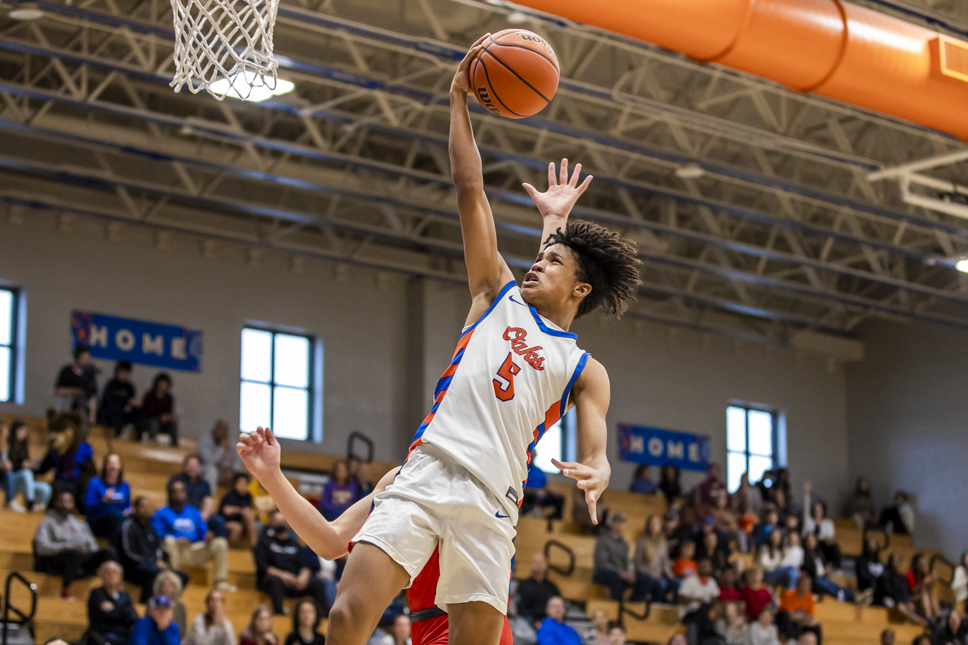 THE WOODLANDS, TX -- The Grand Oaks Grizzlies hosted The Woodlands Highlanders in a regular district matchup on Saturday afternoon at Grand Oaks High School. The Woodlands is coming off a win for first place against Conroe where Shey Eberwein dropped 44 points, which is currently the school record. Grand Oaks is trying to continue their four-game winning streak since the winter break including a massive triple overtime win over College Park.

As the game began, the Highlanders and Grizzlies went after it, driving to the board and upping the momentum from tipoff. Unfortunately for The Woodlands, Grand Oaks locked down their offense which forced the turnovers and bad looks at the basket. The Woodlands would do the same on the other end of the court but Grand Oaks was able to pull through and hit the paint a couple of times.

Although down, The Woodlands would continue to attack the basket in the second quarter and cut through the tough Grand Oaks defense. This would put Shey Eberwein at the line three times and he would hit 5 of the 6 attempts giving The Woodlands the lead mid-way through the quarter. Grand Oaks kept the game close but made more of an effort to shut the ball down on defense so The Woodlands wouldn't pull away. By the halftime buzzer Grand Oaks would take the lead again 24-22.

Tre Lewis with Grand Oaks lit up after coming out of the locker room. He would chalk up a couple of threes and force the foul from beyond the arch. This helped Grand Oaks create a bigger lead from The Woodlands as they made an attempt to come back. Ian Inman would also drain a couple of three pointers and make 8 of the 12 points in the third. Grand Oaks would increase their lead 41-34 going into the fourth.

In the final quarter, The Woodlands kept pressure on the ball and attacked the rim in hopes of chipping away at the Grand Oaks lead. Aden Dominguez drained a few three pointers for The Woodlands but it wasn't enough as Jordan Reese and Tre Lewis would combine for 16 of the 20 points for Grand Oaks.

At the buzzer, Grand Oaks would take the win 61 to 49 and create a four way tie with The Woodlands, College Park and Conroe.


Grand Oaks is set to play Oak Ridge on the road while The Woodlands hosts Cleveland and hopes to start their winning streak back up.
This game is sponsored by the Lawn Ranger Company