About Us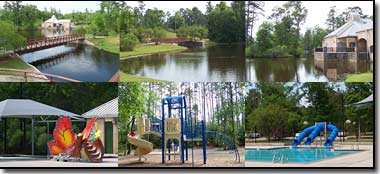 Photo Collage by Woodlands Resident Chris Ragan
Welcome to Alden Bridge Park

Located in the Village of Alden Bridge and featuring the Alden Bridge Pool.

This scenic park is located on 13. 62 acres with 4 lighted tennis courts, a soccer field, basketball courts and play area for your children. It also includes a fishing pond and barbeque pit with 11 picnic tables and a 36' x 48' electric paviliion.

Park Amenities:



36' x 48' electrically fitted pavilion


Restrooms


77 parking spaces


Fishing pond *Catch and Release Program notices posted


11 picnic tables


Three barbecue pits


Play area


Four lighted tennis courts


One soccer field


One lighted basketball court


One volleyball court

 
Welcome to Alden Bridge Park

Located in the Village of Alden Bridge and featuring the Alden Bridge Pool.

This scenic park is located on 13. 62 acres with 4 lighted tennis courts, a soccer field, basketball courts and play area for your children. It also includes a fishing pond and barbeque pit with 11 picnic tables and a 36' x 48' electric paviliion.

Park Amenities:



36' x 48' electrically fitted pavilion


Restrooms


77 parking spaces


Fishing pond *Catch and Release Program notices posted


11 picnic tables


Three barbecue pits


Play area


Four lighted tennis courts


One soccer field


One lighted basketball court


One volleyball court

 
Recommendations For Alden Bridge Park
Amenities:

Basketball Courts

One basketball court

BBQ Pits

Three grills.

Drinking Fountains

Two fountains.

Fishing

Catch & release.

Kids Play Area & Swingset

Play area suitable for kids ages 5-12

Parking Available

Seventy-seven parking spaces.

Pavilion/Gazebos

Main pavilion is 36'x 48' and provided with electricity

Picnic Tables

Eleven tables.

Restrooms

Soccer Fields

One soccer field

Swimming Pool

Features the Alden Bridge Pool with 5-lane swimming. Main pool is 5 feet deep and has a large shallow end.

Tennis Courts

Four courts.

Tot Lot Play Area

Volleyball Courts

One court (sand).