/

/

Urban Retreat is the Spa of Choice in The Woodlands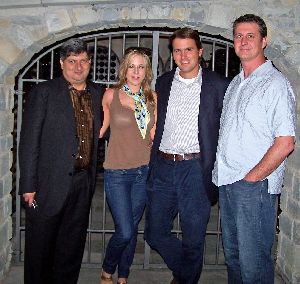 The Woodlands, TX -- It never fails to amaze me just who might be seen in our hometown. Recently Salvatore Ferragamo visited the Urban Retreat Spa & Salon located in the Marriot Waterway. Urban Retreat opened its doors one Monday especially to accommodate him and his entourage. In fact, the spa is normally closed on Monday unless there is a special request for a large group.

When Salvatore Ferragamo finished his day at Urban Retreat, he was so impressed that he invited the owners along with a few staff members to enjoy a fantastic journey to his private estate and vineyard in Florence. The crew enthusiastically accepted, and it was a vacation they will never forget.

He took them on a tour of his vineyard and explained the importance of wine and its history. Salvatore also expressed interest in opening a spa –at his vineyard– like Urban Retreat that offers Vino Therapy. This should come as no surprise. The Ferragamo family is notorious for pioneering so many other innovative ventures in fashion and style, why not this too?

While the Staff that made the trip have returned with some exciting stories about their visit; Allison Del Papa, the Spa Manager, is already busy with plans for others like Ferragamo to spend a relaxing day enjoying all the spa offers. Allison explains, "Many of our future clients have heard through the grapevine of our spa and want it for themselves" adding "We will continue to thrive on bringing more of what clients are looking for in our services". When I pried for a few more names, Allison sat back in her chair with wide eyes and a smile. From her reaction, it is obvious that Ferragamo is not the first celebrity to enjoy the Urban Retreat -- but he may be the most handsome.

The owners of this luxury spa are Johnny Greene and Dr. Ulupi Choksi. Dr. Choksi has practiced medicine for 15 years. He is well respected in the medical community with his specialization in endocrinologic disorders and has been recognized by the American Diabetes Association. Dr. Choksi brings his knowledge and medical experience to Urban Retreat allowing the medical aspects of beauty and skincare to be offered to clients. These valuable services are preformed by a licensed and certified staff. The menus of supplementary medical services are endorsed by 28 well-respected local doctors from the Houston Physicians Medical Association, an association Dr. Choksi is proud to apart of.

Your visit will start off with a consultation and an explanation of services. One of the most popular among men and women is the Laser Hair Removal, a service many spas advertise but rarely deliver. When you are deciding to have any procedure done, it is best to check out all your options. The lasers at Urban Retreat are top quality. An equally popular package is the Skin Rejuvenation -- MicroPeels, TriChloroAcetic Acid (TCA), and Timeless Peel. The Laser Facials are performed by the best Lasers on the market with quality and safety being of utmost importance. Other services include the Titan – a procedure using infra-red light to give what some rave is the 'no downtime lift'. It is preformed on any area of the body desired.

After leaving Urban Retreat, I was intrigued by their success and found out a few things. I took a moment to ask clients leaving Urban Retreat why they love this spa so much. Many clients expressed appreciation for the privacy offered by the location. Urban Retreat has the same and, most of the time, better services than most similar spas found in shopping centers yet has remained competitive in price. Each guest leaves refreshed, rejuvenated and feeling just as the notable celebrities that have dropped by. The hotel valet service was rated A-plus by the spa's clientele. When checking out, you simply give your claim ticket to the Urban Retreat receptionist and it will be validated for you. Nothing could be easier – it sure beats trying to locate a parking spot. There is no other spa in The Woodlands that compares favorably to Urban Retreat.

I have learned Urban Retreat is more than a Spa & Salon: It is luxury personified. We may not all be Salvatore Ferragamo – but for one day, we too can taste the good life at Urban Retreat.

For more information on Urban Retreat of The Woodlands and what they can do for you, Check them out on the web at the link below.