/

/

Project Launch to host Autism Benefit Concert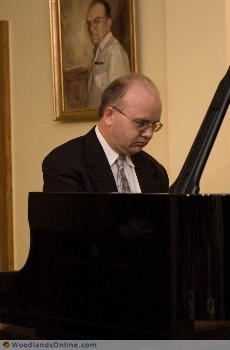 Experience the drama, the pageantry, the splendor … the indisputable genius of Dariusz Pawlas … as he offers his breathtaking virtuosity and wide-ranging musical palette to celebrate National Autism Month at Christian Community Church in The Woodlands, April 25, 2008. Dr. Pawlas, graciously accepted an invitation from Project Launch, Inc. CEO Dr. Josephine Ong-McBride to present an Evening Rendezvous for the organization's Autism Benefit Concert when he learned the focus of this fund-raising event is to increase awareness of Autism Spectrum Disorders and strive to provide funding for appropriate diagnostic and treatment services for individuals in the Autism Spectrum. Project Launch, Inc. – a 501(C)3 non-profit organization composed of medical and educational professionals, corporate and community leaders, parents and interested individuals working together to improve access, services and funding for children and adults with learning/behavioral disabilities – concentrates on helping remove the financial barriers faced by those with special needs through its fund-raising efforts. Recognizing that everyone wants to be treated with respect, members of Project Launch work to empower minds, strengthen bodies and transform lives so they may attain that respect. While the April concert centers on Autism, the overall target population of Project Launch includes children and adults with myriad conditions that significantly impair their ability to learn fully, encompassing those with ADD/ADHD; Dyslexia; Autism; Aspergers; Depression; Bipolar Disorder; Tourette's Syndrome; Mental Retardation; Cerebral Palsy; Sensory Problems; Spina Bifida; Behavior Disorder; Physical Mobility; Physical Disabilities; Childhood Obesity; and other physical, emotional or mental problems that affect the course of their lives. The Project Launch goal is to maximize every individual's potential by providing funding for superior brain-based learning skill services to children, adults, adolescents, and their families. We hope to provide solutions for children and adults with learning disabilities and help them rediscover that they are intelligent and capable, and can be successful.
World renowned for his performances and an educator himself, Dr. Pawlas recognizes the value of and need for such services and, though highly sought after, opened his performance schedule to accept the invitation to present an Evening Rendezvous Autism Benefit Concert. Now a teacher of piano at both Rice University and the University of Texas in Austin, Dr. Pawlas is famous for performing in Frederyk Chopin's home at the Poland International Festival. Dr. Pawlas has performed in Austria, Czechoslovakia, Yugoslavia, Greece, Holland, Italy, and Chopin's birthplace in Zelazowa Wola, as well as the Polish Embassy in Washington, D.C. He is the winner of the prestigious Estrada Mlodych Polish Piano Festival and recipient of the Frederyk Chopin Society of Warsaw scholarship. Dr. Pawlas was born in Poland in the Silesian city of Rybnik, where he began his musical studies at age five. He graduated with the highest honors from the Karol Szymanowski Academy of Music in Katowice, and Rice University in Houston. Earning recognition internationally for his extraordinary talent, Dr. Pawlas has played with the Silesian Philharmonic of Katowice and Artur Rubenstein Philharmonic in Lodz.
The community is invited to experience first-hand the captivating style of Dr. Pawlas on April 25 at Community Christian Church at 10801 Falconwing Drive (west of Gosling and just south of The Woodlands Parkway). Tickets and additional information are available through the Project Launch website at www.ProjectLaunch.org, or by calling Dr. McBride at 832-331-6851. If preferred, tickets may be ordered by sending payment to Project Launch, Inc., P.O. Box 132318, The Woodlands, TX 77370. A VIP reception with Dr. Pawlas will follow the concert. Adult tickets are $45; VIP tickets $60; Youth/Student tickets are $30.