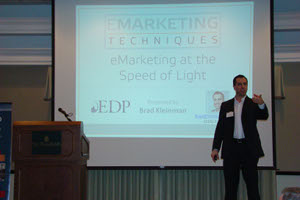 THE WOODLANDS, Texas -- The Economic Development Partnership (EDP) recently held their Quarterly Partner Luncheon at The Woodlands Resort & Conference Center on January 26th. The luncheon topic was "eMarketing at the Speed of Light." Guest speaker, Brad Kleinman with WorkSmart Integrated Marketing, enlightened guests with statistics, tips, and techniques on how to optimize marketing strategies using popular social media outlets such as Facebook, LinkedIn, and Twitter.

Gil Staley, CEO of the Economic Development Partnership, said, "Times are changing for businesses with regards to marketing their products and services, and the means in which to do it. Understanding how to reach your audience, especially the Millennial Generation, is critical to today's business, whether you are selling the hottest fashion trends or marketing your legal services."

Brad Kleinman will be speaking at the Lone Star College System's eMarketing Techniques Conference in Houston on Friday, April 30, 2010. Brad Kleinman likes to say: "Buckle your seat belts, because you're in for a fast ride." The program features multiple eMarketing and Social Professionals helping participants explore topics such as optimizing your website for conversion, using email marketing to foster relationships, and how to use social media tools like Facebook to get real results. For more information on how to register for this conference click on the link below.

For the past five years, the EDP has held these luncheons for their Partners in order to keep them informed of important issues facing businesses today. Past topics have included the Education, State of our Economy, Tourism, Healthcare, International Trade and Life Science Commercialization.

Partners that attended the luncheon were Amegy Bank of Texas, CB&I, Cardon Healthcare Network, Chevron Phillips Chemical Company, City of Shenandoah, Consolidated Communications, Entergy, First Community Bank, Gallagher Sellers AIC, Jones Walker, Karlins & Ramey, Lone Star College System, McGlinchey Stafford, PLLC, Memorial Hermann The Woodlands Hospital, Montgomery County Precinct 3, Nina Marino Realtor, St. Luke's The Woodlands Hospital, Stream Realty, The Kroger Co., The Woodlands Development Company, The Woodlands Resort & Conference Center, The Woodlands Township, Winstead PC, Woodforest National Bank, Woodlands Chamber, and Woodlands Warehouse Park.