/

/

Interfaith announces new board members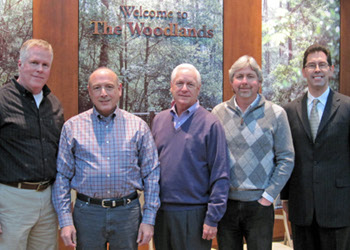 THE WOODLANDS, Texas - Interfaith of The Woodlands has announced the recent appointments of Pastor Steve Bradley, Chip Ray, Steve Sanders, and Dr. Bruce Webb to their board of directors.

"We are honored to have them serve on our board," said Dr. Snyder, President and CEO of Interfaith of The Woodlands. "Each individual was selected based upon the breadth and depth of not only their professional background, but equally as important for their commitment to serving others. We welcome them to Interfaith."

Bradley serves as the senior pastor of StoneBridge located in The Woodlands. Prior to moving to The Woodlands in 1993, he served at Second Baptist Church in Houston for 14 years. Bradley holds a Bachelor of Science degree from the University of South Carolina and a Masters in Divinity from Southwestern Baptist Theological Seminary.

Ray is the executive vice president, corporate planning with CB&I. His career spans over 28 years of experience in strategic planning, international marketing, technical sales, operations and management. Prior to joining CB&I, Ray worked at Flour Corporation and Nalco Chemical Company. He holds a Bachelor of Arts degree in Chemistry from St. John's University in Minnesota and a Masters degree in of Business Administration from Duke University.

Sanders is the CEO of Memorial Hermann The Woodlands Hospital, and has been with the Memorial Healthcare System since 1982. His career began in the U.S. Army where he received training as a medical laboratory technologist. Throughout the years, Sanders has held numerous leadership roles with community organizations. He holds a Bachelors degree in Psychology and Business Management from the University of Houston as well as a Masters Degree in Health Care Administration from Trinity University in San Antonio.

Webb is the senior pastor at First Baptist Church in The Woodlands. Prior to coming to First Baptist Church, he served at Central Baptist Church in Jacksonville, TN. He holds a Bachelor degree of Music Education from Southwest Texas State University, currently Texas State University. He also has a Master of Divinity and Doctor of Ministry from Southwestern Baptist Theological Seminary.

For more information about Interfaith of The Woodlands, please call 281 367-1230 or view Interfaith's Web site at the link below.