/

/

Drought causing problems for area wildlife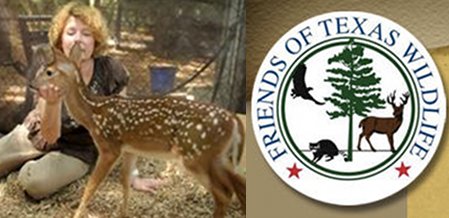 THE WOODLANDS, Texas -- The current drought is making it difficult for wildlife to find water in area ponds and streams and is responsible for killing off native vegetation.

"A lot of animals also get water through plants," said urban biologist Keith Crenshaw who works with the Texas Parks and Wildlife Department. Stationed in an office in Kingwood, Crenshaw works throughout the Houston area. "Droughts often force wildlife to eat vegetation they do not normally consume," he said. It is not unusual, he added, for some wildlife, such as deer and foxes, to begin making appearances in residential areas in search of water and food.

"Birds and squirrels are doing fine," said Crenshaw, "because they have an easier time gaining access to irrigated yards in residential areas."

He also said certain bugs seem to thrive in drought conditions which is good eating for some wildlife species such as lizards. But, not all wildlife is faring so well.

Wildlife rehabber Janette Winkelmann has rescued injured and orphaned animals in Montgomery and northwest Harris counties for decades, but she has never witnessed the struggle wildlife are enduring due to current drought conditions. "I have seen our area wildlife survive floods, hurricanes, and windstorms," Winkelmann said. "But never have I seen the severe conditions our animals are trying to endure with this record-setting drought."

As president of Friends of Texas Wildlife, a nonprofit organization established in 1998 to care for injured and displaced animals, Winkelmann has a first-hand look at the devastating effects of drought on the native wildlife population in and near the Kingwood, Humble and Woodlands areas.

The U.S. Drought Monitor, an environmental tracking index, indicates nearly the entire state of Texas is under the index's highest drought level - exceptional. And the state has been in drought conditions for at least a year.

Since the drought reached critical stages this summer, Friends of Texas Wildlife has taken in possums, raccoons, fawns, owls, and songbirds – just a few of the species often sighted in the area.

Winkelmann said residents seeing animals in their backyards should not approach the wildlife because they could become dangerous when frightened or they may be sick with diseases. She is especially worried that diseased animals could endanger domestic animals kept outside as pets, such as dogs and cats.

Keep pets safe. To help prevent contact between wild and domestic animals, Winkelmann suggests keeping containers of water just outside property lines, where domestic pets cannot access. She said the water containers would help keep wild animals hydrated and prevent them from wandering closer to backyards. She is also reminding residents throughout Harris and Montgomery counties to make sure their domestic pets are vaccinated.

"Wildlife can share diseases with dogs and cats such as Parvo and distemper," Winkelmann said. "If food and water is left out overnight, exposure increases for wildlife and domestics."

Although animals are being sighted more frequently near residential areas such as backyards and parks, not all are finding alternate sources of nutrition.

"In the last few weeks I have seen fawns born prematurely, that are malnourished, baby raccoons out in the daylight for hours on end and baby possums that are near death in their mothers' pouches," Winkelmann said. "Every young animal that we admit is dehydrated to the extreme. Every call we get seems to be an emergency."

Winkelmann said about 50 Friends of Texas Wildlife volunteers are currently caring for sick and injured wild animals. The group, she added, is caring for "three-times" the number of animals it typically cares for, an amount already reaching into the thousand-a-year range. "We are probably receiving 15 to 20 phone calls a day reporting sick and injured wildlife," she said.

Although the wildlife rehabilitation organization is currently at capacity, Winkelmann said its volunteer staff is still monitoring its wildlife hot line 12 hours a day. Volunteer rehabbers are currently housing double the amount of sick, injured and displaced wildlife they would normally care for at their homes, she said. Nearly all of the animals need extra care for hydration and antibiotics, resources which have been drained at alarming levels. Volunteers often pay for medical supplies from their own pockets. Winkelmann said the organization is "in desperate need" of monetary donations to purchase medications, bandages, fluids and crates. Despite the challenge of limited resources, both financial and human, the wildlife group will open a center in the near future on land purchased to become an intake center in The Woodlands area. Buildings planned for the center must be worked on, but the extreme temperature is halting construction efforts, as volunteers must spend more and more time and money helping wildlife through the current drought.

"We need volunteers to help us get our site ready to go," Winkelmann said. "People in construction could really help us. We are also in need of a lawn tractor since our property sits on 3 acres. Our funds are depleted."

Want to Help?
Friends of Texas Wildlife is a nonprofit group of volunteers trained to care for sick, injured and displaced wildlife. It is the only wildlife rescue group in Montgomery County with volunteers permitted by the U.S. Fish and Wildlife Services as well as the Texas Parks and Wildlife Department.
Donations can be made online via Paypal or you can send a check to Friends of Texas Wildlife, Post Office Box 130786, The Woodlands, 77393-0786. To learn more: Visit the organization's website at the link below or e-mail inquiries at the button below.

To report a sick, injured or orphaned wild animal please call the organization's hot line at 281 259-0039.