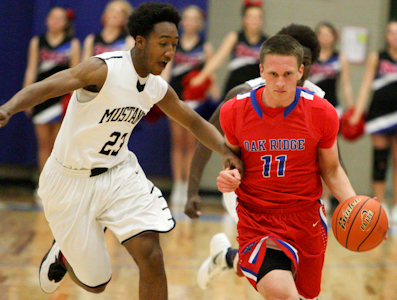 THE WOODLANDS, Texas – The Conroe Tigers scored the first five points of the game, but the College Park High School boys' basketball team used its patented quickness and speed to kick up a notch the pace of the game and roll to an 82-50 victory at home Friday.
Boys basketball
Even Cooper scored 22 points, hitting nine of 14 shots, and added seven assists while Zach Wright (8-for-12) tallied 18 points and grabbed five rebounds to help lead the way. Riley Zinsmeister finished with 14 more, including a 4-for-7 shooting night from 3-point range, and hauled in seven rebounds.
The Cavaliers wrestled the momentum and the game away by the end of the first quarter, holding a 23-16 advantage that ballooned into a 40-21 game by halftime. The No. 19 state-ranked Cavaliers (26-6, 9-0) won going away with a 23-16 edge over the final eight minutes.
Bryon Makel hit three of four attempts, including two of three from 3-point range, and finished with nine points. Layton Zinsmeister contributed five points, seven rebounds and five assists.
Keanu Andaya scored five points while JT Mauck added four and Jayden Holden accounted for three points, five steals and two blocked shots. John O'Donnell rounded out the scoring with two points.
The Cavaliers remained a game up on second-place The Woodlands (27-3, 8-1), which won 70-48 at Oak Ridge Friday. The No. 17 state-ranked Highlanders got 16 points from Brian Baehl and 10 more from Garret Colonna.
The Woodlands bolted to a 22-12 lead at the quarter and increased that margin to 35-18 at halftime and 53-26 after three quarters.
Tanner Doyel paced Oak Ridge with 14 points and Curtis Rosinski added 11 more.
Both The Woodlands and College Park have one more game before the two meet again at 7 p.m. Friday at College Park. Prior to that, The Woodlands hosts Kingwood at 7 p.m. Tuesday while College Park visits Atascocita at 7 p.m. Tuesday.