/

/

Local hot sauce manufacturer launches 'hottest' new business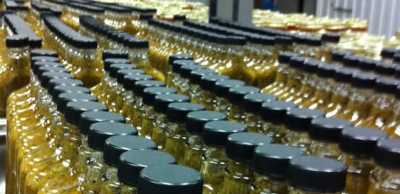 SPRING, Texas -- If you don't think the hot sauce business is a growing industry, think again. The production of hot sauce is one of the eight fastest growing industries in the country. Not necessarily because it was lucrative, but because he loved hot sauce, Kerry Stessel started Hot Line Pepper Products after giving it considerable thought, and he thought it through every step of the way. Hot Line Pepper Products is a local, family owned business based in Spring, Texas.
Hot Line Pepper Products now in full-volume production
"There was never any question about making a hot sauce, but a lot of time went into the recipes for the current 4-product line," Stessel said. In fact, the recipes were experimented with and tested for two years, before ever going into production. Stessel added, "I wanted a blend of spices and peppers that produced a full-flavor product, not just a chemical burn."
The result was a range of hot sauces that are all natural, with no additives or preservatives - and all original. Stessel maintains that he didn't want to be influenced by other recipes, so he based his blends on his own taste preferences and from the results of his taste surveys. Viscosity and consistency were primary considerations in order to control variation in the products.
"Chiles have different profiles and different levels of heat, especially jalapenos. Controlling the taste and heat is the biggest challenge," Stessel said.
The four Hot Line Pepper Products include Garlicky Greengo, Hatchanero, Evil Ooze, and Ghost Pepper Saucer. Stessel not only thought through the blends, but developed the sauces to blend with different foods, not unlike wine/food pairings.
Garlicky Greengo is a mild sauce consisting of fire-roasted jalapenos and Tomatillos, with lime and garlic added. It pairs well with seafood and is an excellent marinade when blended with olive oil. Because of its acidity, it makes a great meat tenderizer as well. And to make a great guacamole, all you need is the avacado; the Garlicky Greengo will provide the rest.
The other three sauces are at the 'hot' end of the scale. Hatchanero, an original name that is currently undergoing copyright, is a blend of fire-roasted Hatch chiles and Habanero peppers. This is the sauce of preference for Tex-Mex foods and hamburgers.
Evil Ooze, fire-roasted jalapenos and Habanero peppers, is best paired with tomato-based foods like spaghetti sauce, Gazpacho soup, fried foods, and Asian stir-fry. "This is the sauce I'd recommend to enhance the flavor of pizza," said Stessel.
The Ghost Pepper Sauce is made with the inflammatory Ghost peppers and blended with habaneros. Stessel advises, "Use this sauce sparingly. It's ideal for chilie, stews, and spicy bar-b-q, buffalo wings , and cocktail sauces, when you want to 'kick' them up a notch."
Thinking all the time, the shape of the bottle was selected for a variety of reasons. The sauces are bottled in larger flask-style bottles, instead of the traditional round hot sauce bottle with the long neck. Ergonomically it's easier for smaller hands to grasp but not out of proportion for larger hands. One of the largest markets for hot sauce is the adult male. The larger flask also enables the name of the product to be easily viewed without wrapping the name and logo around the bottle, or having to shrink the label.
Hot Line Pepper Products are on the shelves at Simply Texas Pepper Palace in Old Town Spring, Texas, GenuWine in Magnolia, and Hubbell & Hudson in The Woodlands, just to name a few.
Stessel said, "If you don't think you can eat hot, sauce, think again. Give them a try and your taste buds will come alive with the flavor and heat."
To sample the sauces, drop by the Hatch Fest at Hubbell & Hudson on August 11 and 18. They can also be obtained online from the Hot Line Pepper Products website or through the shopping cart on both the website and their Facebook page.